steel fish art with plasma cutter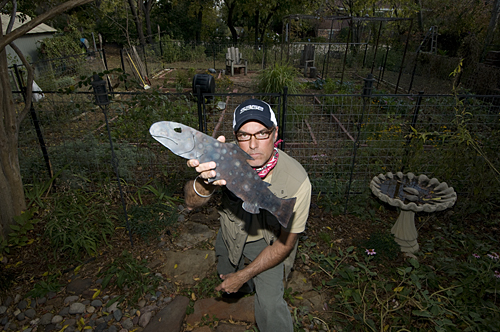 A diseased looking fish at best. Some eye disease is present. In the background is the largest ongoing welding project known in the free world of our backyard. Note the typical wide angle distortion. The fish is actually three inches in length.
Anyone who knows me knows I have a soft spot for hard steel.
A guy buys a torch, a welder, a plasma cutter and grinder, and the next thing you know he thinks he's a weldor. I imagine true weldors / true artists look at it much like true photographers look at the proliferation of "photographers."
Anyone who knows something about art knows, or has said at one time or another, "It's all been done before." Well, I can guarantee you steel fish have been done before because I saw the most wonderful examples hanging on the walls of Gruene Outfitters the last time I was there meeting with Tiffany and selling the Cimarrona product line. It is one of those moments we are all struck by, when a journey begins with the simple words, "I can do that."
The artist is Curtis Kroesche, and his work has inspired me to pick up the plasma and get cutting again. His web site is www.lonekro.com, and he is in New Braunfels, Texas. Already, I can see that I am thinking in other directions from his work, but I still have this drive to figure out just how he does what he does.
Texas Fly Fishing MESSAGE BOARDS
According to a thread at www.texasflyreport.com, the Stripers are blitzing on Lake Texoma. I can't find anyone who thinks things below the dam will ever be like they were last year, that is not until the next 500-year flood. It was good while it lasted, and just what a newbie to fly fishing needed to quickly build too much confidence in their ability.
Another thread I am in on at www.itinerantangler.com shows just how geeky and how much (virtually) useless knowledge abounds in my synapses on the subject of photography. Too bad no one wants a teacher of photography. That was where I poured all that out to make room for other things. Let's see if there's enough room for steel fish, or is it another creative dead end?
In The Mail
I received the strangest little envelope from SIMMS today. It contained a deck of porn playing cards – fish porn that is. I guess I moved up on their mailing list after sending my waders back for repair recently. Whatever the case, thanks SIMMS!
Category: Equipment, Fishing Reports, Fly Art, OFF TOPIC, Paid Reading Content