San Juan River Navajo Quality Waters fly fishing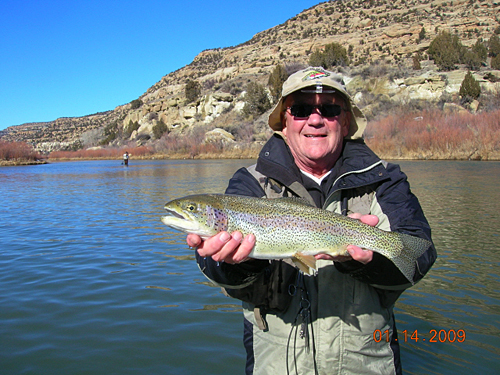 It looks like Richard is having some fun [ppw id="133615320″ description="Navajo Quality Waters New Mexico Fly Fishing" price=".10″]
in the Navajo Quality Waters. He sent TFC this image this morning. Note the lack of fly jockeys in the background. NOW is the time to be there if that's your cup. I have fished with Richard enough to know he has the touch for the San Juan – and he did a good job of pulling that #16 out of my finger as well! But I am liking the looks of that hat he has — Hey Richard, send me one of those!
REPORT – Well, you can't get too much of the SJ, but we probably won't be going back in January. The river wasn't crowded for sure. The water was very murky because the Lake is turning over and hasn't settled out yet. The ambient temperature was not terrible or I was adequately dressed for it so the cold didn't bother me. But it was 27o at 10:00 am warming to about 43 o during the day. We set a record for fewest fish caught for any trip. Not a record that I am happy with. The fish we did catch ran on the larger side for some reason. Maybe it was too cold for the smaller ones.
Andy had acquired a 0 weight rod. It was certainly different. Couldn't get much distance. Partly because I wasn't used to it. It was really light but it was fun to fish with, Though I didn't develop a need for one. I fish with a 3 weight and sometimes I can't quite reach my target with it.
We may come to Texas in March. Hope we can get together for some fishing. —
Just in time for some of those Hybrids! That should rock his world.
[/ppw]
Category: Fishing Reports, New Mexico Report