Welcome to the Monday Morning Sidewalk, and thanks to all those Presidents today! It was an eventful weekend to say the least, and while the water continues to warm up – mostly due to massive influxes of rain – the days are also getting longer, the bugs are getting buggier and today's temps are expected to hit 80-degrees. What more do we want?
Well theres the long list of fly fishing events coming to Texas as well! This new book I am such a fan of, pre-release selling – top right column, has given ME a shot of self-esteem about a little more pride in what Texas has to offer when it comes to fly fishing.
In talking to the author over the book, I was also told about a fiberglass event – a REGIONAL event – that is coming to Texas. Just hearing about that event, that I had no idea was happening, reinforced my decade-long assertion; Austin really is the EPICENTER of fly fishing in Texas.
And the list of spring fly fishing events is as huge any time I can remember in the past ten years.
Plano Fly Fishing Festival – March 21-22 2020 — Plano, Texas
TPWD Fly Fishing Texas – April 18 2020 — Athens, Texas
2020 Texas/Oklahoma Glassic April 24-26 — North Fork San Gabriel River, Georgetown, Texas
Each of these events will be covered in greater detail – individually – this week.
As for what else is going on?
A new article on a young man here in Denton, who just received his third, of three appointments, to the famous military schools we have all heard of: Army, Navy and Air Force. He has an extremely rare decision to make.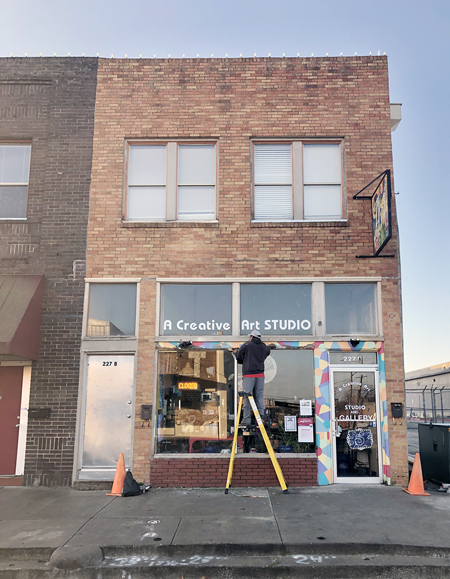 I am taking on my first-ever ongoing art gallery showing in an existing gallery here in Downtown Denton, Texas. We are reorganizing that gallery's business operation, and it is basically getting gutted and re-established with a new look and new Co-op artists – fully operational and open for business on LEAP DAY 2/29. If you think that's a handful? We're only getting started.
There is also a non-profit called "The Art Room Denton," that specializes in art therapy in general. I am helping with their media presence, and maybe … adding some fly tying as a potential creative outlet for anyone with "issues" who may be interested. (Best I can figure – non-profit really is)
One thing is certain, time right now is tight, and who knows if all these different outlets will survive my ongoing addiction!
Category: Adventure, Body-Mind-Soul, Causes, Events