clear rubber net fly fishing nets #flyfishing #christmasgifts
CLEAR AS A SLEIGH BELL
If memory serves, I have talked about the benefits of clear rubber landing nets versus the old standby black fabric nets. But time goes by, and maybe we forgot, or need a refresher, or never read about how much better clear nets work when landing those trout in your favorite stream.
Imagine if you will (yeah Twilight Zone), a giant black fifteen foot net coming at you on your local street outside your favorite restaurant … what would you do? I would run like hell. And you've probably noticed that's what fish do when you think you finally have them about played out – they make that last run for the border, increasing the likelihood of a break off or landing a fish near death.
If you have tried a clear rubber net, you know fish will typically go right into the basket – because they don't see it. And since it's a rubber net, that barbless hook comes right out of the net – the best of all worlds!
CHRISTMAS GIFT GIVING – SANTA BRINGS A BRAND NEW NET!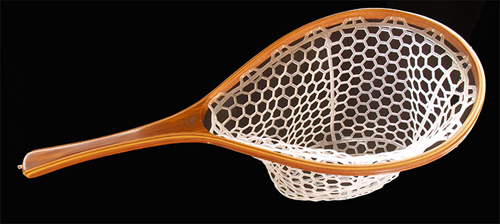 Nets can be beautiful wood, carbon fiber or simple aluminum framed. Make no mistake though: you want the clear net bag.
If you want to keep it simple for Santa, send them to the Orvis website to have a look at the Brodin Nets. Or, go straight to the source – Brodin Nets. and have a look at their entire selection of nets – Brodin Nets. I also found one on Amazon by Bent Fly Fishing that looks like a pretty darn good net. These days it's pretty easy to go Amazon, but you can still get a good net right down the street at Tailwaters in Dallas. They carry Fishpond Nets. There's a saltwater ready clear net at Drifter Marine that also looks very good, but I really don't know much about nets in saltwater. I assume if the clarity is good, as it sometimes is in the bay, a clear net there can make a difference as well. Have a look at Otter Nets if you want choices in wood and lengths – easy to use online drop-down menus make selection and customizing your net easy.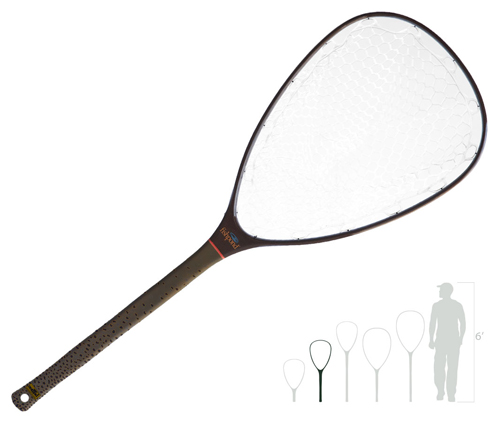 If you're looking for a more techno looking net, then be sure to have Santa check out the Fishpond fishing nets.
BRODIN NETS – CLICK ON THE IMAGE to order at Amazon.com!
My clear net is the Brodin Davidson Trout Bum net, one I purchased in Pagosa Springs, Colorado, at Let it Fly a few years ago. It was cheap enough that I don't worry about handing it off to a fellow fly fisher on the water, and around the Oklahoma briar patch fly fishing I also don't have to worry about a finely finished wood net frame getting scratched. I have seen a few broken wood nets streamside – when an unfortunate fly fisher falls on their net. That would hurt in more ways than one! My Brodin is a pretty plain big sturdy net, but about the only time I use it is for netting other people's fish, or when I have a net-worthy fish on the line.
There aren't many items in the fly fishing category that give gift buyers such a large range of choices and prices for a fly fishing item. And they're available from your local fly shop to huge online retailers like Amazon. Of course these nets became hugely popular overnight, and that means the Chinese make them by the thousands and thousands. I've held a few of those, and the wood is heavy and who knows where that wood came from anyway?
CLICK ON THE IMAGE to order Eagle Claw Clear Rubber Trout Net – on Amazon.
This net by Bent Fly certainly has a unique look to it. One thing I have noticed is there are not many companies making nets that have any ergonomic variation. Flat handles with rounded sides seem to be the norm. I've dabbled enough in bending wood – making classic Shaker Boxes – that I know how difficult this kind of woodworking is – it takes skills, real skills to make these nets.
As sexy and lightweight as the carbon net frames are, there's still something about a wood net, and the woods can be just as lightweight. If you already have a net frame you love, it may be possible to retrofit a clear net on it. About the only place I found the clear nets is the J. Stockard catalog (not the website), but they're out there.
Category: Equipment