guadalupe river hill country fly fishing texas holdover tournament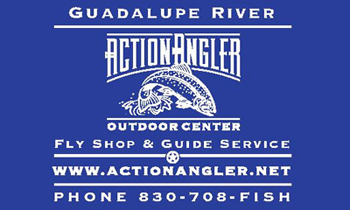 We are back in Texas, and the cool weather has followed us. It's a great time to be outdoors. The fishing has been great on the Colorado, San Marcos, and Guadalupe. We've found a decent number of holdover trout, despite the drought conditions. Bass are aggressively hitting various poppers.
I wanted to take a moment to fill you in on the most recent news in the Texas hill Country.
News and updates from the Texas Hill Country:
1. The Texas holdover Tournament is scheduled for November 8, 2014. This will be a full day event with options of guided float trips, wade fishing, and trash pick up. Please contact me, or New Braunfels Fly Fishers for details.
2. Our annual Learn to Fly Fish event will be held on December 6, 2014. Please contact us for details if interested.
3. We are a booking agent for 3 day float trips on the Gunnison River through the Gunnison Gorge. This allows us to hold preferred dates for our clients. We are currently holding 4 spots for 6/13/2015. The cost for each angler is $1,750.00 (trip details available on request).
4. Last month we donated space for a USGS gauge to monitor water levels at 3rd crossing. The info is now live on the USGS website:
http://waterdata.usgs.gov/tx/nwis/uv/?site_no=08167900&PARAmeter_cd=00065%2C00060
Please let us know about any guided trips or lessons you would like to book.
We will also be looking to form a fly tying clinic for those interested.
The fly shop is open for business, but mostly on an on call schedule until November when Dave arrives for another season.
The satellite shop at Rio Raft has been discontinued for this season. Thanks to everyone that supported that experiment.
Sincerely,
Chris Jackson, Owner/Lead Guide
Go Where The Action Is!!!
www.actionangler.net
830-708-FISH (830-708-3474)
Category: Culture on the Skids