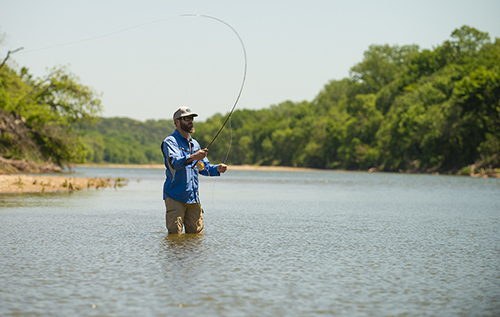 After dealing with a neighbor's medical emergency last night, in the middle of our block, on the asphalt street, I am a little behind in gathering up my random thoughts and packaging them in a neat little bundle I fondly call the "Monday Morning Sidewalk." Nevertheless, let me give this a try …
RIVER FLY FISHING
So the only river nearby is a "log-jamming*" affair, called the Denton Greenbelt disaster. That particular disaster has been moving, like a train wreck in slow motion, for years. And the wheels are still screeching, while I have little time to carry the baton of revitalization, with NO ONE ELSE in the marathon relay race. In the last decade, that downward spiral of the Trinity River between Ray Roberts and Lewisville Lake, lead me to NEVER spend any time on my nearby river – lead me to discard my "Kayak Shuttle Service" because there were no kayakers … and so on.
Fast-forward to now: Texas rivers are again on my radar, although the blips are very faint and distant. Yesterday's trip, for example, was a 180-mile round trip to a short private access piece of the Brazos River. Fair warning: My newfound fascination with fly fishing rivers comes overloaded with ulterior motives, none of which hold any guarantees of anything.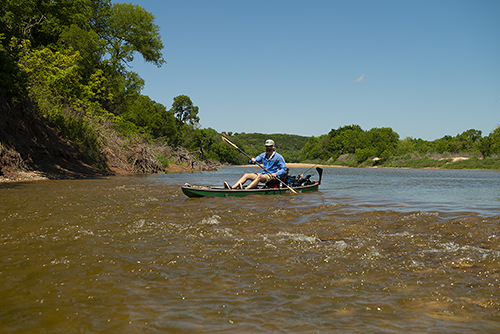 What I found along this short civilized stretch was … extremely refreshing. The face-plant at the end, after staying upright and dry the entire day, is not what I am talking about; I just found the sounds of civilization to be on the "other side" of the thicket that lined the shore. I could hear it but it just couldn't touch me. There's something to that feeling, and it left me with the craving for more, a lot more of this mind freeing kind of Texas River adventure. As fun as it is to buzz around on a powered watercraft, paddling and drifting with the current is itself an invigorating experience I have been missing out on. 
The only problem remains – distance. Well actually, several problems remain, or attach themselves to the river fly fishing world. And we will be going through those one-at-a-time in real time, in coming weeks.
WINDY AND DRY
Conditions this Monday seem to be pointing to a break in our drought here in North Texas by the end of this week. North Central Texas weatherheads have been grossly inaccurate for some time now, so get ready for more drought coming soon!
The wind? One word; relentless. This time of year, the battle between north and south winds begins in earnest. The south wins this battle, but the fight leaves North Texas fly fishers its victims for about six weeks. Rare is the North Texas delay with winds below fifteen and gusts to twenty-five. All the more reason to dive into rivers, right? Bear with me, I am still learning!
SHOW AND TELL
THANKS for reading. I am seriously on the move now, as I use any window of weather opportunity to go and do the things we like and need to do and see. I am extremely happy to report that my circle of people I "go and do" with seems to be broadening this year, and if YOU are catching fish on fly? I would love to show you showing us how you get it done! Again, my biggest problem with that is – living in the taint of Texas. It is likely I am a long way from wherever you are, but gas is made to be burned, right? Have you noticed the price at the pump? Perfectly awful timing …
---
*LogJamming – a "Big Lebowski" reference.
Category: Adventure, Body-Mind-Soul, Brazos River