fly fishing in texas fly shop
TIME TO OPEN THE SHOP – AGAIN
In a small announcement meant to take advantage of the newly "booming" economy, and take your money instead of letting you blow it on Chinese stuff in a big box, it's time to roll out the new fly shop for your unique made in the USA purchasing needs. The name of the new fly shop is PoPs Fly Shop, and you can find it at www.popsflyshop.com.
PoPs Fly Shop took its name from PoPs Surf Shop in Port Isabel, Texas. There actually was a Pops, and he was already old by the time I started stopping at Pops (the '70's era of Lightning Bolt & Birdwell Beach Britches) on the way over to the Island. Somehow, I wanted to try and stretch my connection back to home, and maybe lay a little future cyber foundation. I'm not old enough to be a "PoPs" yet, but with a little luck (and a whole lot of shop sales) maybe I can get there from here. Bottom line: Increasing PoP's sales immediately — decreases the likelihood of having to charge for Texas Fly Caster content.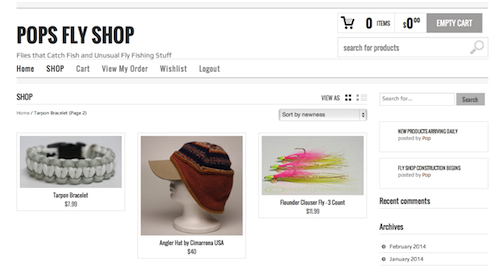 What you'll find at PoPs is basically the same things you found here until January of 2013. Strangely enough, I have been selling as much offline as when the store was online, so this independent site should do very well in the new boom. And I am adding new fly tiers to the arsenal of people making flies HERE IN THE USA – GUARANTEED DURABLE FLIES THAT ACTUALLY WORK..
PoPs Fly Shop will also feature things I make as in the past. You can find unique flies that are tested and proven – to be durable, to catch fish and to be USA MADE. Books, hooks, rod socks and magnifiers are all there as well. It is a very clean and functional site, so feel free to wander over there and buy lots of stuff.
Make recommendations for products too! As long as it's not in any Texas mom & pop fly shop already, I will take a look at it.

GUIDING 2014
It's hard to imagine being out in this weather guiding for carp right now, but I'm getting ready as winter's bite keeps me indoors a little longer. As of now, I will be guiding this spring and summer from either the Spear or the Mitzi depending on which is available. And the Spear will come with a guide as well. So we are looking at two boats and two freshwater flats guides, based out of Texas Fly Caster this year. Walk and wade is out for the time being, the drought being what it is. Skiff fishing for carp has proven itself to me and those of us have done it.
Now it's time to turn it on, and dial it up to 11 for the masses. Once you see the opportunity to be completely away from the crowds, in great locations accessible by boat only, and have dozens and dozens of sight shots at carp … you'll be hooked too! This is it. We're kicking it up a notch. And you can go ahead and start booking in advance if you like. We are offering $50-dollars off a full day booking – if you make your deposit in February. You can determine the date when the season actually rolls around. And for repeat clients, contact me about a special offer I have just for you. I think you'll love it.
THE WEEK AHEAD
Pray for rain. None of this frozen precipitation is amounting to anything, and with lakes here, North of DFW, passing the 8 foot low mark, we look to easily make my prediction of 14 for Lake Ray Roberts. We're going to see things we never imagined, and I only hope the drain stops up at 14 feet low.
WELCOME to your day wherever you may be. Believe it or not, spring will come, and we will all thaw out. I hope you arrived safe to wherever you are, and say your prayers for the rest of us as we find our ways to wherever we go.
Category: Backcasting, Flats Boats, Guides, Store Merchandise