louisiana fly fishing marshes oklahoma fly fishing Beavers Bend oklahoma #flyfishing
This slideshow requires JavaScript.
ALL IMAGES – COURTESY 3Ms & Danny Scarborough
It's hard to put the 2015 MLK weekend outdoors into words. I don't remember a MLK weekend with better weather than we had here in this part of Texas this year. If you fly fish crowded places on a regular basis, then you may have been shoulder-to-shoulder with your locals. It's just that good.

Whether it's pressure, or trash, or noise, or nowhere to park, or bad attitude(s); it's rare to find me near public waters on a holiday weekend. However, it you tuned in to recent Texas Fly Fishing Reports, it was easy to see the MLK weekend coming from a long way off – as "one of those" weekends – absolutely epic. And the photographs started coming in pretty quickly Saturday.
Whether it was brown trout in Beaver's Bend, or bull reds in Louisiana, it was … here's that word again – epic. I appreciate the photographs from the 3M's and Danny Scarborough. If you had a good MLK weekend outing, feel free to send in you photographs! I get as much joy out of my friends catching trophy fish as I get from catching them myself.
If you do send in your photographs, make sure they are sharp (in focus) and I need as much information as you want to provide about the outing.
We have two more great days of weather, and you can find me near Cottondale, TX, working on the Airstream – gettin' it while the gettin's good. It's a pretty good physical beating (this part of the rebuilding process), but the Yoga is certainly paying off.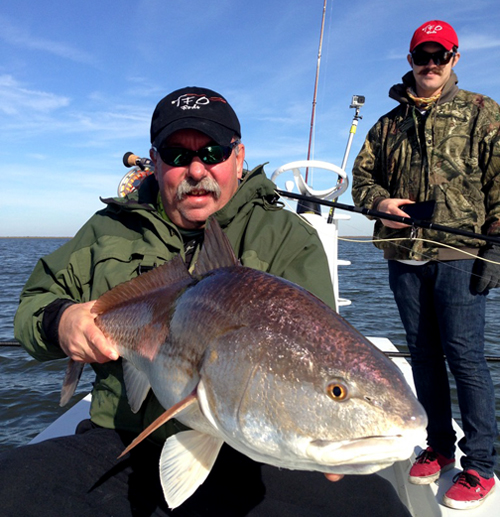 Tim with a Louisiana bull red, aboard his East Cape Lostmen.
+Shannon Drawe
+Texas Fly Caster
Category: Adventure, Culture on the Skids, Louisiana Report, Oklahoma Report