When in doubt, whip out the old pro – Joel Hays. I have been scanning the southern quadrants of Lake Ray Roberts this past week, and coming up short when it comes to carp down south – east and west.
So today, Father's Day, I got a text from Joel asking if I wanted to go to the far reaches (undisclosed) and see what is going on up there. My text back was a no brainer. We were ON.
We took a look, and saw less carp than we expected, given the time of year and conditions, but WE DID FINALLY FIND carp. To me that's a big relief, as things have gone a little whacky this year because of several factors, not the least of which is the drought.
I was certainly pleased with the GoPro video I got of one of Joel's carp, and I did manage my best fish this year at this location. Nowadays, a six-to-eight pound lake carp on Ray Roberts is exceptional, and the image below shows not only the carp from today, but also the final product – a tie dye carp camo shirt from an earlier post on how to make that shirt. I had a tangle right before I was able to cast to this fish, and with the camo, I was able to take my time and get untangled without spooking off this specimen.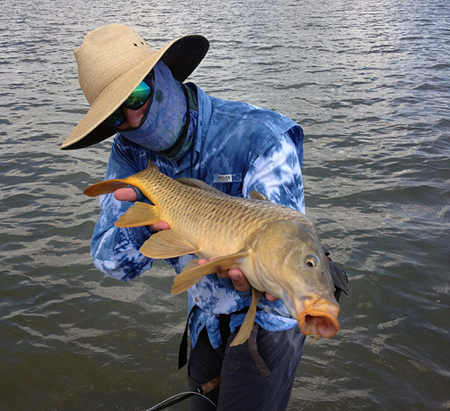 Category: Adventure