FLY LINE MANAGEMENT PROBLEMS BE GONE!
To Some, Size Matters
The Tickler is my newest style fly line management system, a fancy term for line catcher, or line mat, or fly line mat, or that happy thing that keeps your line where you want it. Whatever you call it, it was demanded by enough fly fishers I respected, that I decided to go ahead and make this new style that includes a shorter length at 20-inches, and two holes strategically placed at each end of the mat. The width remains at 6″, and we even included hash marks along the entire 20″ length.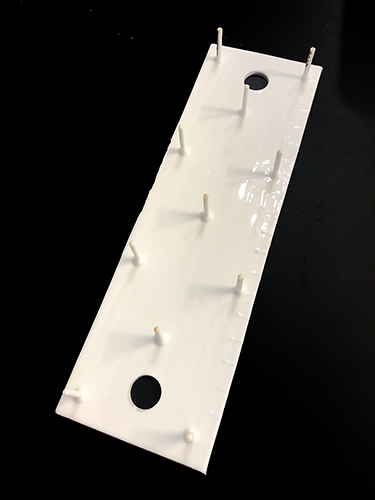 Why the holes?
I had enough people wanting to be able to tie these down, not necessarily on, so they could be secure and more versatile for their particular fly fishing needs. I'll be honest with you, I was sitting in my fly shop looking at this one hanging on a hook, and my mind started racing … toward a bunch of "what if" questions.
What if someone comes up with a "floatie" that this mat mounts on? Say a single piece of closed-cell with two oversize closed-cell studs that go through the holes and button it onto the foam? You got yourself a walk-wade line manager! Just tie yourself up to it, and off you go. I think I'll call that the "floater" …
OR, lash this down to a chamber on your float tube, or float raft!
OR, velcro strap through the hole and hang it off your poling platform to catch line while you're fly fishing from the poling platform?
Obviously, these holes add function to this mat – at this size. What function that is? Well that is all up to you!
KAYAK ATTACK
Probably the greatest number of requests for this new size came from the kayak fly fishing world. Say that three times fast! The fly fishing kayaker is a rare breed, and I know of what I speak. Fly fishing from a kayak is another marble to balance on top of another marble on the water. You who do it, know exactly what I mean.
This mat is for you so that you can at least keep track of your line. I will probably put a "biner" through the hole on my mat, and secure it to the skiff with a piece of 550-paracord so I can slap it around and on the edge of my antique Tarpon 140.
I am taking orders starting NOW, and you can hit the dropdown on the right advert to be transported by PayPal through the transaction. If you want to choose another method, I am game! Just text me and we can find a viable workaround for avoiding PayPal. My NEW DEFAULT COLOR for all mats is WHITE. That means white will typically be on the shelf. If you order any other color including clear, you can add some days to that delivery time. There IS NO extra charge for your color choice!
First in is first out in the order in which orders are received! This mat's price has currently settled in at $119.usd – the same as the Rounder.
LOOKING TO 22
In 2022, the advancements in fly line management will take a leap forward in quality and supply. There is also one more new model coming this spring – that is the SMALLEST line mat of the bunch, but sure to catch line if you can hit it! I have already shown you the benefits of a large mat, and the versatility of the small mats as well. The first new design of 2022 will take that versatility to a new level.
Category: Equipment, Fly Line Management System, Fly Lines, Industry, Kayak, kayaking