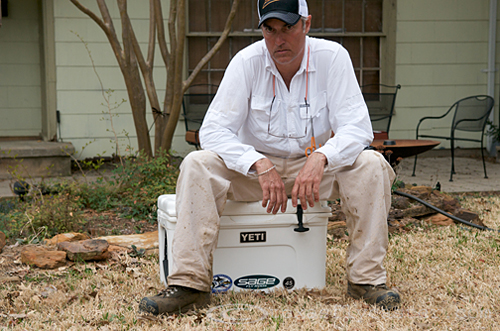 Down and dirty with sand bass spring runs in rivers and creeks. Hope springs eternal. Fish tacos anyone?
This is the first day of Spring 2011, if I am correct? Well, North Texas springs are known to be violent and unpredictable in terms of weather and fishing respectively. It's reassuring, in these $3.50 a gallon days, to be able to drive a short distance to get into some hand-to-hand combat with our most abundant fish – the sand bass.
They are on the move, and they are easy to find right now. I have a post in "Hot Spotting" that gives you all you need to know about where to find these tasty fish, and what to feed them, so that they may feed you and your family, and the neighbors … OK, there are a lot of fish in the creeks and rivers. Daily keep limit for sand bass is 25, and you can do that in about two hours or less – if you are so inclined. All those I caught today were in the two pound range which is getting up there for sand bass. They tried my Sage Xi2 7wt. pretty good, but the rod was able to wrench them out of the ditch pretty good. Feel free to contact me if you haven't already paid for access to "Hot Spotting" and I can fill you in on the rates for that service. Or, feel free to contact me about a guided trip.
Note – I'll start working on the White River Arkansas story while you guys are out catching sand bass. Look for that post later this week.
Category: Fishing Reports, North Texas