Labor Day Tradition Continues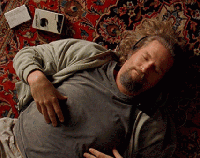 Enjoy your Labor Day if you can. I am enjoying the rain, although it delays the new commercial for the miraculously affordable, extremely reliable and handy fly line tamer … line spikes … management system … whatever you want to call it. Have an idea for a name? Maybe I'll just call it the Lebowski. It just lays there and catches shit.
---
Now this story I'm about to unfold
took place back in the early nineties–
just about the time of our conflict
with Sad'm and the Eye-rackies.  I
only mention it 'cause some- times
there's a man–I won't say a hee-ro,
'cause what's a hee-ro?–but sometimes
there's a man.
…
And I'm talkin' about the Dude here–
sometimes there's a man who, wal,
he's the man for his time'n place,
he fits right in there–and that's
the Dude, in Los Angeles 
SCRIPT "The Big Lebowski"
---
Category: Complimentary Reading