VaporTread Salt Simms Intruder wading boots #Simmsflyfishing
Try and find another fly fishing company that is as interested in your fly feet as Simms. There isn't one. Truth be told, there's a (materials & design) revolution going on in the underwater category of fly fishing boots meant for wading, with and without waders, and Simms continues to lead the way.
This year is, once again, no exception for what you'll find in the way of new offerings at Simms. There's a boot for every purpose, and I only wish some of these styles were around during those walk-wade days that stretched for miles along the Ray Roberts shoreline stalking carp. We can all say in harmony, "Better late than never," as Simms recognizes and caters to a new segment with their new "Intruder" boot that looks like a neoprene socked running shoe right out of the box. At 44 ounces? I shudder to think at how far I could have walked through the goo.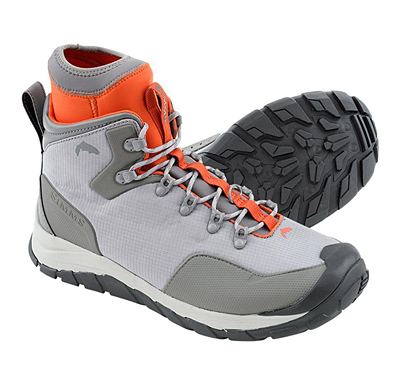 DESCRIPTION
FEARLESS BOOTS FOR AVID WADING ANGLERS. 
Simms' new Intruder® Boot, with integrated neoprene sock, fights hostile underfoot elements via appreciated nonslip superpowers. Dual-density EVA midsoles mitigate shock, while ESS plates keep cleats in check and enhance balance and control. Forward-thinking features include Vibram® Megagrip rubber construction, abrasion-fighting welded TPU pads, and a full neoprene lining for comfortable cushioning and convenient on/off capabilities.
FEATURES
Integraded neoprene sock blocks debris
Full neoprene lining for cushioning & easy on/off
Duel-density EVA midsole for shock absorption
Welded TPU pads in high abrasion areas
Designed to be worn barefoot or with Simms® neoprene wading or guard socks
Vibram® Megagrip rubber outsole provides superior grip on slippery wet rock surfaces
The two pair of boots I use most now are the G3 Guide Boot in rubber with spikes, and another lightweight heavyweight – the VaporTread in rubber. I don't own anything in the middle of the road. I've documented the care and upkeep of the top-of-the-line G3 Guide boot, and I actually have a wear-and-tear update on those boots coming soon. That said, my Vapes were intended for kayak jumps – jumping off and wading, or just as a security blanked for whatever came along while kayaking. On the other hand the G3 Guide boot is heavy, bulky to hold my "wader-feets," and the spikes were a big no-go for kayak decks. Crossing big water, like the White River in Arkansas? You'll want that weight to keep planted on shifting stone. I do wear the G3 Guide boot for jetties jumping, boulder hopping at dams as well as on other occasions where grip is critical. They're like having (old) Toyota Land Cruisers on your feet.
So neither boot is what I would want for Texas winter saltwater fly fishing from the skiff. Not a problem. Enter the brand new, soon to be in my shriveled little hands, "Salt VaporTread." I have yet to see these in person, and the only reservation I have when I look at the image, is the hardware – especially the speed lace hooks on the ankle portion. All the hardware is "non-corrosive" which I hope translates into coated metal … but it doesn't look like it. Regardless, I'll be giving them a go next week, and what else could I do; nobody (no other manufacturer) gets close to these special needs for wading boots anyway. The weight, once again, puts these in the "lightweight" category. What sold me on these? The non-marking sole and the weight.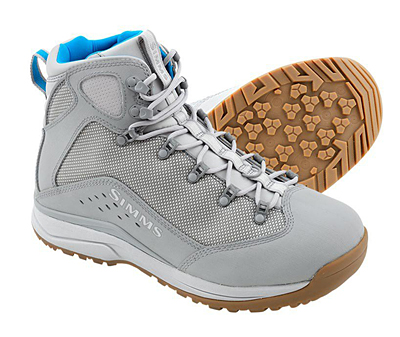 DESCRIPTION
FLATS FISHING FOOTWEAR FOR AUTHORITATIVE COMFORT AND PERFORMANCE WHEREVER PELAGIC SPECIES ROAM.
Slip into Simms' lightweight VaporTread® Salts and step into prime position. Waterproof synthetic leather, TPU coated textile and rubber uppers ensure durability, while an anatomical collar makes wading more comfortable. Dual-density midsoles combined with the VaporTread® platform absorb shock and enhance balance and control thanks to synched flexibility and heel stability. Additional features include anti-corrosive lacing hardware, Vibram® Megagrip outsoles, and partial neoprene lining for cushioning and easy entry/exit.
FEATURES
Waterproof synthetic leather, TPU coated textile & rubber upper
Anatomical collar for all-day comfort
Anti-corrosive lacing hardware
Partial neoprene lining for cushioning & easy-on/off
Duel-density midsole for shock absorption •
VaporTread® platform provides maximum flexibility & heel stability
ESS plates for improved proprioception
Vibram® Megagrip outsole provides superior grip on wet & dry surfaces
END NOTES ON FOOTWEAR
Salt has its own special demands of course, and those demands tax every piece of gear you own. If you want more life out of your salt wading boots, be sure to try and get the micro shells and sand out occasionally as you wade through the day. That stuff will tear your boots a brand new hole in a single day – just by the abrasion. Rinse your boots after every single day's adventure on salt – thoroughly inside and out. Spread the laces to open the tongue up a bit, and let them air dry. If you have spikes, and you're on the salt, they're going to rust – no matter what. Just think of it as extra traction. Take along a spare set of laces (550 para is great), and be sure to include any tools that help you get the laces through the eyes – THAT'S CRITICAL! And I would say take another round of spikes after two or three years as well.
ON REVIEWING BOOTS – It's rather difficult to rate something like footwear because we all have different wear patterns. For example: I am a bit pronated. I have a tendency toward a narrow stride that makes me scuff my toes with the heel of my opposite foot. Do that regularly with spikes, and you can cut all the way through a toe box. Also – I am now underweight for my size, and my arches rose as I lost 35 pounds in two months time. So I now have a skinny foot with high arches – slightly unusual for someone my age. Another problem with reviews is real life; maybe I left my leather boots outside to freeze a couple of days, or maybe I forgot to wash them off after a salt trip? It takes very little abuse to send an expensive pair of boots down a slippery slope that ends with them dangling from the rafters of my Fly Bar! So there's this "grey area" that is best summed up by saying, "In general, results vary from person-to-person." I would follow that up with – you get what you pay for – like so many things in life!
Be sure to go to Tailwaters Fly Fishing Co. in Dallas to get your feet into a brand new pair of Simms Boots this spring. And as long as you know you're shopping for boots – take YOUR waders and YOUR socks to try on boots. When in size doubt, never go smaller — add a thicker sock, or liner to the mix.
Remember that your feet change size throughout the day – larger in the early morning, and as that blood circulates, getting slightly smaller. If your feet aren't comfortable on your favorite day in your favorite spot, mark my words, you'll be miserable.
Photographs & Descriptions – Courtesy Simms Fishing Company
Category: Apparel, Clothing, Complimentary Reading, Equipment