—"The Prairie Ocean" as it relates to fly fishing the Blue River in Oklahoma, is borrowed from a blog title "Drifting The Prairie Ocean", a blog by friend and guide Barry Shrader.—
As I was gathering up all my gear for a quick trip up to the Blue River, it struck me again; fishing for freshwater trout is infinitely more complex than any other fly fishing out there. Sure, we can argue about it, but even stockers can get picky somedays. For whatever reason Sunday was one of those days, but nobody told me there would be days like these. Strange days indeed.
My ride pulled up on time, we loaded my bags in the back of the sleek SUV, and I slid in, and almost across, the back seat along fine grey leather seats. Somehow, I don't think Gierach would be proud of, or comfortable in this ride, but plush it was. I had to wedge my feet just to keep from sliding around and the driver was not being impractical at all, even leaving the baby seat across from me – I guess to have something to hold on to. I thought of Ricardo Montalban talking about "fine corinthian leather" in those old Chrysler advertisements.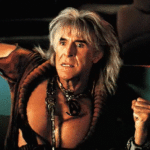 We made our way north on I35 to Oklahoma, and then east on 70, with a final destination of the Blue River. It wasn't bass early, or carp late, but it was the last day for the catch-and-release (CNR) area before the catch-and-killers are allowed in to mercifully cut short stocked rainbow trout suffering from rising water temperatures, and brain boil. They truly are mercy killers.
The fish in the CNR area are usually notorious for being big and slabby with an attitude to match. It's almost as if they get caught enough times to know they will be released, but most of them develop attitude problems from the constant sticking. Even though their tails are worn tragically, and the big ones are much worse for the wear, they can fight a four weight into a rainbow shaped arc and peel drag within the confines of small to medium pools of green and jade water.
I found myself trying some new writing habits, getting down a few notes along the way, especially when timely topics rolled from the front seats and round back to me. We were all over the conversational map – from music; a bit of Janes Addiction, to high school cars and sexy Avatars.
In the music realm, we agreed there is still something about Jane's Addiction. Even though we were in one fine ride, the driver copped to owning an El Camino in high school and spent all summer helping a friend install a flat wood planked bed – on a U Haul truck the friend had purchased – stained and varnished. Imagine a U Haul with the box replaced by a huge wood flatbed … not exactly a chick magnet. Would I drive it today? You bet. We unanimously agreed there is something a little interesting about twelve foot tall blue chicks with long electric tails.
TOMORROW – On The Water
Category: Culture on the Skids, Fishing Reports, Oklahoma Report