HECK OF A PLIER – HECK OF A DEAL
I met one of the big dogs for Danco right at a year ago, at South Padre Island, Texas, and there is where my lust for a premium pair of pliers began.
I am just like you, one of the last standing "Fly Fishing Culture on the Skids" citizen consumers. My trust fund still hasn't kicked in, and the lottery keeps ripping me off. But I have learned, through having one of those $9.98 pairs of Danco aluminum pliers (on your bottom shelf at Academy Sports) for a couple years – I have learned the value of this type of plier over hemos and other more "finesse" hook removers that fly fishers typically use. And I have tons of worn out pairs – top of the line – pairs of hemos to prove my point. It's not the tool, it is probably the user.
Sure I look at a pair of Van Stahls or a pair of Sage, and even a pair of Hatch pliers with great longing. But I also know what it feels like to watch something sink in 60-feet of brown water … reflecting the light as it spins down into forever. I can beat myself up with the best of you, and I wanted to avoid the beating from losing a $175-400-dollar pair of pliers. Those kinds of beatings last me for … years.
STILL THE PAIN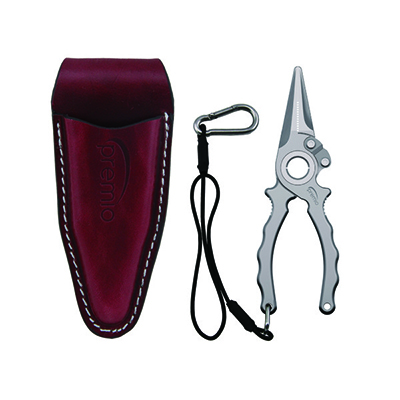 My 5.5″ Danco Premios arrived late last year, and from the moment the deep red sealed box hit my hands, I could just feel … this is the good stuff. De-box-ified, they come in a heavy leather scabbard that actually holds them in, and are secured with a lanyard through a hole in the scabbard, and thin bungee leading to the hook on the handle. I have been utilizing both – a scabbard and a lanyard on my budget Dancos – since I purchased them, and you will be surprised how easy and convenient it is to have your pliers on your waist! You will get so used to it, that you'll be reaching for them automatically. My shirts typically cover up the pliers, so there are no issues of tangling with fly lines – ever at all. AND if they are hooked to you? There's no chance of watching them disappear either!
The other things that set these top-of-the-line Dancos apart are, a serial number (lets you ID yours!), side cutters (for those of us with lacking vision – absolutely necessary!), replaceable cutters and as I mentioned before – the size is perfect for saltwater inshore, and freshwater when push comes to shove.
When you order your PREMIO Pliers from DANCO, make sure to tell Mitch I sent you, and while you're at it, ask him about his Florida side hustle dream business – the "Dock Box."
END NOTE – Danco makes a lot of products that other companies slap their names on. But I really like the look and feel of their fillet knives as well. Problem is; I don't have much call for knives anymore.
Category: Culture on the Skids, Equipment, Reviews