Search my soul, and you will find, at the very least, a vision of a salty old geezer, squinty eyed and wrinkled, poling some older geezer on the flats, silently sneaking in for his shot of a lifetime.
Sure, there may be a little more clutter in my head (soul), I would imagine more clutter than most. This little vision relies on one integral variable that I cannot envision ever having the green to own – a true flats boat.
It always seems there are as many flats boats are there are fly fishers who want flats boats. Everyone thinks they know which is the best flats boat, when in reality all float, and when in reality it is the most subjective best one could attempt to rate in a single article.
In comparison, some bests are easy. Airstream is the best travel trailer. Toyota Land Cruisers (the real ones) are the best commonly available assembly line four-wheel-drives period.
It really is impossible to be perfectly accurate with all the regional boat makers scattered all along the US Gulf Coast, but my standards are pretty simple –
1 – It must be sexy
2 – It has to draft in less than 8″ and be poling weight
Numbers one and two not necessarily in order of importance, and mostly influenced by slick advertising and cameos in fantastic photography spreads, here's the list:
FLATS BOAT NUMBER 5
When you have a nmanufacturer like MAKO building a small flats focused boat like the 18-LTS Inshore, you know the quality is there. It is probably a bit on the heavy side, but the V hull will cut the chop, and clean surfaces rule the day. I can see right away that some customization would be necessary, but then if it's yours – you can do whatever you want with it! (Don't hold it against them that the only photo they have is in freshwater lilly pads.)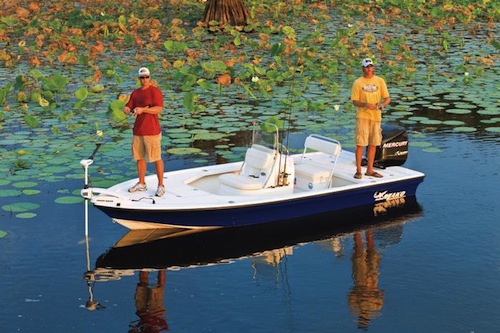 FLATS BOAT NUMBER 4
Just about you think I've flipped my lid for big brand boats, along comes a Texas Gulf Coast traditional bay boat – Dargel Boatworks Skout 140 is about the only Dargel boat that fits the current bill for being light enough to pole (barely). The thing about Dargels is they are very stable platforms, and I have seen them manufactured up close and personal. If we keep an eye on Dargel, I bet we see a traditional skiff before long.
FLATS BOAT NUMBER 3
I came across Dragonfly at the IFTD show in New Orleans. This is one hot little boat. The Emerger 16 has a 5 inch draft. Neither my description nor photographs do it justice. This is a beautiful low slung skiff, slick as an arrow point and just as sharp.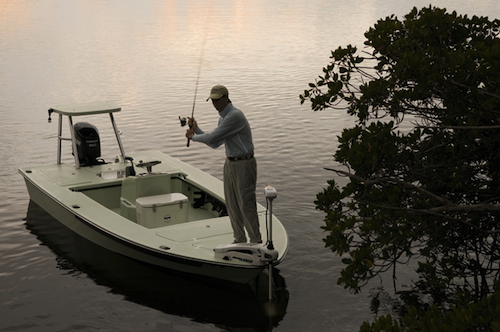 FLATS BOAT NUMBER 2
Hell's Bay. The draft of the 16'4″ Whipray is 3.5 inches. Not 4 inches – 3.5 inches. Who else but Hell's Bay would measure that half inch. My kayak is almost as long as this model, and from the looks of it, it may be as tippy as my kayak, but the "cool quotient" is off the charts.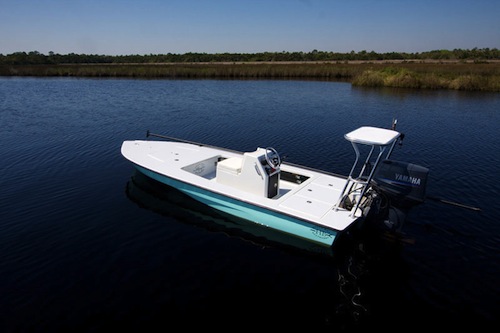 FLATS BOAT NUMBER 1
Mitzi Skiffs are hot. Santa may as well get me the Mitzi 15 Tender as it has a firm six inches of draft, and the beam is the same as the 16. Weight? How about 410 pounds? Is that amazing or what? Santa could easily hitch that to the back of his sleigh.

Okay, so maybe I wasn't good enough this year, and maybe I never will be, but it's fun to look and dream late winter nights with all the waders hung with care.
Category: Industry, Uncategorized