This year, I am going to break down the perfect gifts for the fly fisher in your life into categories instead of lumping all the greatest things together.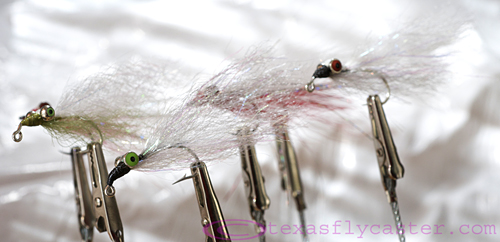 The first category this year, and just about out of time, is fly tying. As you can see, I have been busy filling my quota of 1-thousand flies a year, which is a pretty easy task around here if one simply takes it on as a daily assignment. I tied these Clousers and refilled my stock of Hybrid Clouser Flies after it was wiped out in holiday orders.
NUMBER 5
Peace on earth and good capes for all. We pray for the end of all fly feather hair fetishes, forever and ever amen.
NUMBER 4
The fourth day of fly tying should bring a product that is available right here at Texas Fly Caster. We make a custom shelf that clamps right up to the fly tying desk you may have purchased at Cabela's recently, or not so recently. It comes in plain vanilla, and can be modded with magnets and precision drilled holes to hold tools or other tying aids. A must have for your generic table. Made by me right here in Texas.
NUMBER 3
Fish-Skull by Flymen Fishing Company. Yes, sculpin heads and fish skulls – who could ask for anything more in their stockings! There's another way of looking at the weighted fly head, and these fish skulls and sculpin heads and could open up a lot of possibilities. They make heavy stocking stuffers guaranteed not to sink your budget. 100-percent designed and manufactured in the good old USA!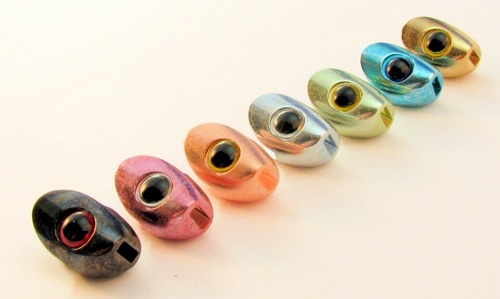 Number 2
It was a year of "upgrades" (to borrow an overused computer term and beat it to death in fly fishing) on my bench, and that included the enlightening and insanely great Rite Bobbins brand of thread bobbins. These are a bargain at twice the price for what they do. I thank Stephen Woodcock at Backwood's Fort Worth for showing me the error of my ways, which he never hesitates to do for anyone, and bringing me into the 21st. century of fly tying. Sure they cost more, but if you tie enough flies, these bobbins make you better at the game. It's a product that makes you wince when you see how much better Merco's Rite Bobbins (kind of like owning Apple computers for nearly 20 years of daily business use) are. I have three models of these bad boys, and I am not done yet. Not made in the USA?

NUMBER 1
Clear Cure Goo. More sticky stuff in your stocking than a barrel of chocolate monkeys. I was a bit disappointed by the first generation of CCG that left the user having to overcoat the hardened product with something like Sally's to cover that tacky feeling that also mottled / dulled the glassy surface CCG left after hardening with Brian's (owner of CCG) proprietary UV flashlight. There's still a lot I don't know about this product, but the new Hydro, which Brian sent me is the REAL DEAL. HYDRO dries hard and fast. The biggest expense is the flashlight, and once you get that, you won't be needing another one. So, get your fly tier a flashlight (I haven't found another source for these and claims are made that no other light works), and let them choose the Goo that's right for their needs.
Clear Cure Goo is potentially the most revolutionary product to hit fly tying in a long, long time. Your fly tier will thank you again, and agin for this gift. All Clear Cure Goo products are made in the USA. Clear Cure Goo is a Texas company, based right here in North Texas.

More Last Minute Gift Ideas Later This Week – for you midnight shoppers!