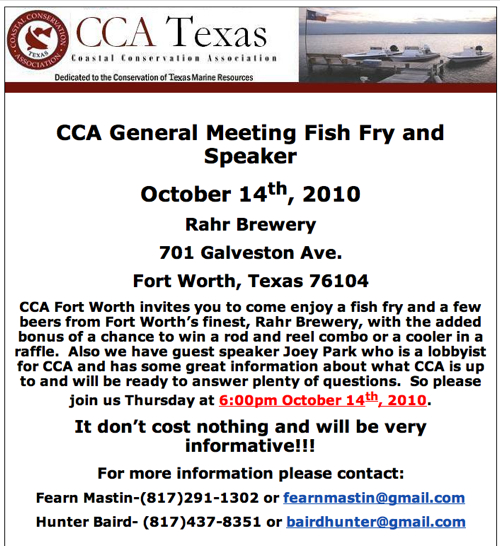 CCA General Meeting Fish Fry and Speaker
October 14th, 2010
Rahr Brewery
701 Galveston Ave.
Fort Worth, Texas 76104
CCA Fort Worth invites you to come enjoy a fish fry and a few beers from Fort Worth's finest, Rahr Brewery, with the added bonus of a chance to win a rod and reel combo or a cooler in a raffle. Also we have guest speaker Joey Park who is a lobbyist for CCA and has some great information about what CCA is up to and will be ready to answer plenty of questions. So please join us Thursday at 6:00pm October 14th, 2010.
It don't cost nothing and will be very informative!!!*
For more information please contact:
Fearn Mastin-(817)291-1302 or [email protected]
Hunter Baird- (817)437-8351 or [email protected]
*See! Double negatives abound!
Category: Causes, Eating and Drinking