A weekend that passed for not much fly fishing around North Texas as the wind took us to and fro before finally allowing a cool front to pass gingerly through the DFW area of North Texas. The front appeared to pick up steam as it headed into East Texas, so I guess the talking heads are already standing in front of piles of rubble, looking for the most distraught person they can find to cry on camera – after the two minute break. We've had such a cool snap here that I find myself considering the rainbows at the Blue River in Oklahoma before phase two …
Fly tying is fast and furious in the shop as I get ready for the Black Friday fly fishing this year on the Gulf Coast. I talked to Salas (aka. Salsa) yesterday, and between bursts of information, flowing both ways, we essentially have a "Plan A," and "Plan B," just in case our flounder aren't where we think they are. And I thanked him for his service to our country (82nd. Airborne), as I thank all of you who serve and served so that, as a Nation, we can continue to do whacky stuff – like we did last Tuesday.
If you haven't been reading along, all this time, I will begin to freshen up the information on fall fishing as those trips happen. I will start with the most exciting fall facet – flounder on fly rod – and certainly get to synthetic stocker rainbow trout as well. All this information has appeared in past years (we're starting six years as of now), but I probably don't do a good enough job of telling you where to look. IN THE RIGHT HAND COLUMN there's a box under "SEARCH TFC," and you just key in what you are looking for there. It will start with the most recent and if you scroll down, it will say "Older Posts." If you hit the "Older Posts" button, it will continue back into older archives of Texas Fly Caster. This is what you are looking for –

Keep a sharp eye on the site, as that box will be moving around in an effort to make this site more user friendly. If you have suggestions for the new look of Texas Fly Caster, yes change is in the air, speak now, or forever hold your peace. By January, we are going to have a fresh, new look that is still the same great information you've come to expect from Texas Fly Caster. Whoops, I left out the word "free" information … change is in the air around here – since none is coming in D.C.
And that brings me to another point, you can always donate to the cause (free flowing information) to keep it free. That "Donate to TFC Content" button is also on the right hand side column, and looks like this –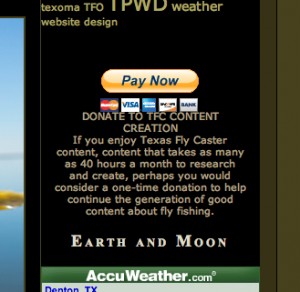 Those of you guides and fly shop workers, who glean information from Texas Fly Caster, are also welcome to "Contact" me and we can talk about advertising rates.
Have a great week, as you arrive for one more, and we put last week further behind us. As always, feel free to comment, make suggestions or contribute.
Category: Culture on the Skids