Hunting story and the Blue River and Louisiana Redfish from Pat Thompson
You know how it is this time of year. It is pretty hard to keep up with[ppw id="133614789″ description="Keeping Up South Texas Redfish" price=".10″]
demands. Will do the second part of the hunting story this week, and try to wrap it all up nice and tidy for readers now complaining.
Meanwhile, had a great trip to the Blue River in Oklahoma yesterday. Frozen guides, and frozen lines, frozen reels, and frozen fingers and finally frozen waders that we couldn't even get off when we got back to the car. Plenty of Rainbows fell victim to our pursuits, and feeling is starting to come back to my frozen bottom lip. It was a true test of gear (other than rods and reels), and its ability to keep warmth in and elements out. All-in-all, everything passed the test. There should be some video forthcoming from the Blue, although no image can really do justice to the weather factor yesterday. Yes, we were the only ones there. What does that say?
I just got a few photographs back from Pat Thompson, from the Rio Grande Valley. I met him through the sale of a Simms bag to him, and he made a trip last week to Louisiana where the reds are obviously running. I don't know if he gave the fly I sent a throw, but the Bulls are running. Whatever he was throwing, it must have worked.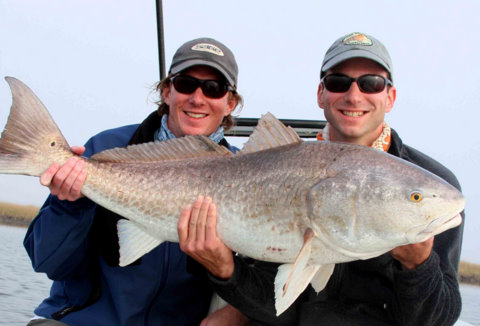 [/ppw]
Category: Equipment, Gulf Coast Report, Oklahoma Report, Paid Reading Content