FROM Living Waters Round Rock, Texas –
Greetings Fellow Fly Fishers,
Brushy Creek is our home water and its beginning to settle into its spring pattern. Fishing has been spectacular and we have had some very great days of fishing on our local water as of late! One thing we cherish at Living Waters Fly Fishing is our home water — especially Round Rock's own Brushy Creek!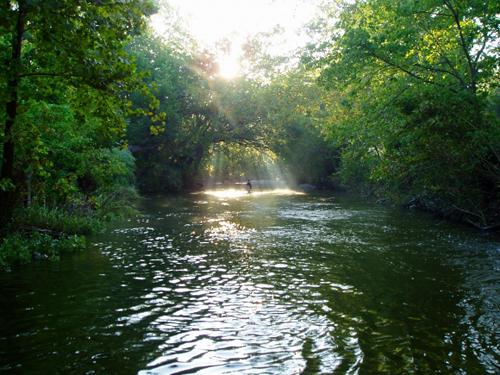 Brushy Creek looking mystical. – Courtesy Living Waters Round Rock.
On Saturday, April 6th, we are teaming up with Brushy Creek MUD's Creek Clean-Up and will be doing our part to help keep Brushy Creek beautiful! A huge thank you goes out to Brushy Creek MUD for providing dumpsters for us to dispose of all the trash we collect and recycle brush that we remove! On another note, after the clean up, we will be boiling up a bunch of crawfish here at the shop so make sure that you RSVP for the clean up and the crawfish boil! There is a suggested donation of $10 to take part in the crawfish boil, but it is all you can eat and we will take care of all of the drinks as well! See the event schedule below and make sure to RSVP for the boil so we know how many people to cook for!!! We need your RSVP no later than April 1st!! Take care and God Bless!
What to Bring: Wading Gear if you want to clean up in-stream, otherwise Long Pants, Long Sleeve Shirt, Close-Toed Shoes, Work Gloves, any Brush Cutting/Removal Tools that you desire. Please call (512) 828-FISH if you have any questions!
Tight Lines,
Living Waters Team
SATURDAY, APRIL 6th, 2013
BRUSHY CREEK CLEAN UP AND CRAWFISH BOIL
EVENT SCHEDULE
9:00 A.M. — Doors Open
9:15 A.M. — Clean Up Briefing at LWFF
10:00 A.M. — Clean Up Begins
(You do not have to stay for the entire clean up but are welcome to do so)
2:00 P.M. — Clean Up Officially Ends
3:00 P.M. — Crawfish are Served at LWFF (suggested $10 donation)
Our mailing address is:
Living Waters Fly Fishing
309 West Main Street #110
Round Rock, TX 78664