blue river oklahoma trout fly fishing report #flyfishing
It has been awhile since I've seen Barry in the flesh, but you will find his prose at Drifting the Prairie Ocean. You will find his most current information about the Blue River and photography as well at that site. He guided my bro-in-law and myself once we decided to do the Blue, and although it certainly isn't all that complicated, that early encounter was a perfect example of the old adage, "GET A GUIDE!" He saved us a lot of time, left us with plenty of information, and revealed a deep concern for the Blue and how important conservation is as it pertains to that river and its fishery – really taking ownership, and leadership as outside forces were moving in with their own interests placed way ahead of the Blue River.
The actual report from Barry is a Pay-Per-View read – obviously necessary to curb a stampede that no one wants. It's amazing what one tin dime will do to people's perspectives isn't it?
ATTENTION ANNUAL SUBSCRIBERS – Those who have subscribed in the last few months (while I have been ill), you may need to e mail me to get access to your paid content! Or, simply set yourself up as a new user and I will activate your subscription. If you have any access problems, let me know immediately please – [email protected]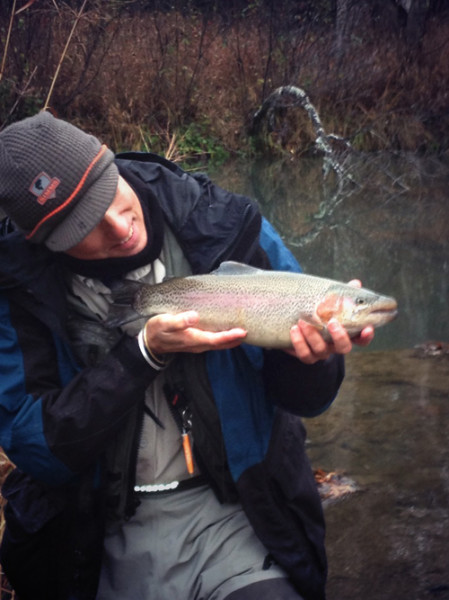 A Blue River catch-and-release pig from a couple seasons ago.
Category: Fishing Reports, Fly Fishing for Trout, Hot Spot, Oklahoma Report, Paid Reading Content, Technique, TIPS