texas fly fishing art #art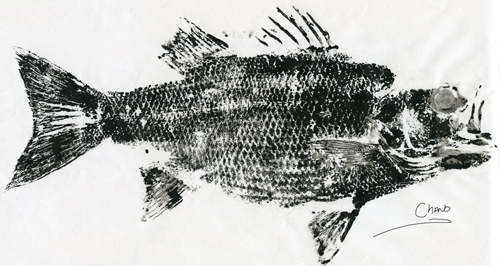 Just like TFC is known for the Monday Morning Sidewalk, we are floating a new weekly column on Tuesday, called Bang The Drum.
BANG THE DRUM is not about catching freshwater drum or even saltwater big uglies. It's about a show-and-tell of art that needs (and in my case wants) a broader audience.
As always, I am happy to Bang The Drum for any artists who want to take the time to contact me, maybe give me some kind of explanation of the relationship between your art and fly fishing. For me, for example, I fly fish and I photograph and I do steel work and Gyotaku printing. The only correlation, in some cases, is that I am a fly fisher who does art – AND IT ENDS right there. That's okay! Show us what you have! I'll bang the drum, and send up the smoke signals – old school.
It is kind of a knockoff of a Denton Center for the Visual Arts show that is called "On My Own Time," which highlights local people who submit the art they do on their own time.
I realize participation is hard to get these days, so don't be surprised if I simply reach out to known fly fishing artists and display some of their work, work that I have seen or like. And you won't be surprised if I take the opportunity to fly some of my art by you when I need some chum for the pirañas.
Category: Fish Art