ON MY HEELS
No, I am not wearing heels! It's an OLD saying that means, I am rocked back on my heels https://www.lexico.com/definition/set_someone_back_on_their_heels by the year's unwinding carp season here on Lake Ray Roberts this year.
For example, the last time I was out, carp were still not eating well, but were daisy chaining and barrel rolling in ecstasy like they do in spring spawn. What … is … up … with that? This year's carp season has been something of a mystery wrapped in a riddle swallowed whole by an enigmatic fish. 
APRIL MAY JUNE 2021
The early months of the 2021 Ray Roberts carp scene were pretty much put in the wash cycle by rains with unusual timing and proportion. The lake did it's "Up Thing" later than usual, sending carp into the weeds where they were safe from the Soggy Bottom Boys and safe from skiffs on the chase.
Not only were North Texas lakes taking a gut punch from the spring rains, Southeast Texas lakes, like Fayette, Sommerville and Bastrop also had to contend with lake levels. My "National Tour of Texas," needless to say, was postponed.
It's not to say catching Ray Roberts carp on fly couldn't be done in Spring 2021, but the performance level of the fly fisher? It had to be a ten on a ten scale: Present the fly to the carp at close to his range, time the drop (of the fly), wait or work it, set the hook and hold tight and as always go to the reel. Now, do that all in a ten to twenty second timeframe and you had a chance – a chance. As I say, "Many are called, few are chosen," when it comes to action at this level.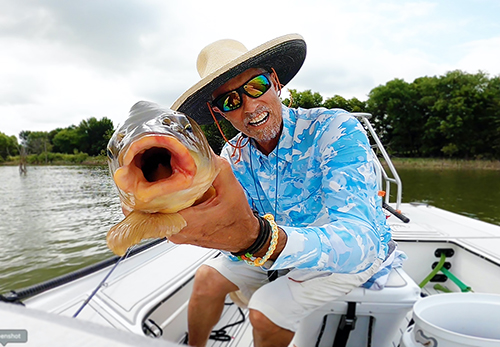 JULY AUGUST 2021 Fly Fishing
What's the first thing we Texans think of when those months of the year are thrown out? Heat, plain and simple HEAT. And the heat was on, but honestly, not like in past summers. It was almost cool enough to con any North Texas fly fisher into continuing the huge spring effort – methods, locations, timing patterns – into the heart of summer. And the action in July and August actually looked a lot like June – strange days, but good numbers of carp and shots. The overarching problem? Carp were still not reacting "normally" on the best presentations, the best days in the best places to find them. Confirming with other hardcore Ray Roberts fly fishers, I heard the first words out of their mouths, "skittish, finicky, spooky and difficult," over and over again.
By the end of August 2021, the heat did come … and while the still abiding by the previous descriptions, the fish were showing some behavior that was unique for August. The mysteries continue …
SEPTEMBER 2021
What's the first thing a dynamic Texas fly fisher thinks of as fall approaches (beside hurricanes)? Texas salt. The Texas Gulf Coast in fall is numero uno in the minds of the majority of fishermen in Texas, while Texas "sportsmen" are chasing dove and getting ready for deer season. All this does is make room for the fisherman on the Texas Gulf Coast, and for me the Coast is a nuclear magnet to my steeled heart.
FALL FOCUS is still paramount! While the pull of the salt strengthens through October, we have to, 1) Practice on carp for our fix and to prepare for salt, 2) Don't forget Texoma striper topwater action RIGHT NOW, 3) Watch for our dam action (PK and Denison), 4) Second guess those spring 2021 lakes – Fayette, Sommerville and Bastrop, and finally, keep that ear to the rail for unexpected opportunities.
SEPTEMBER is a MONTH CERTAIN
September in Texas has a unique status among outdoor sports enthusiasts. Labor Day, this weekend, is a definite bookend to the sportsman's Texas seasons. Today, September 1, is the day the dove do fly, and the shot does chase them … right into Denton, and they're sitting on my bird feeder this morning.
September 1 marks the date for renewing your fishing license. It also used to be the definite date that school would start or would be nearing its start (back in the olden days). September, after Labor Day, means the lakes calm down, the public parks slow down, camp sites open up and those of us who have been waiting? We now rejoice, for September has an extremely different meaning from our old school daze.
September is also certain in the fact that we can be totally uncertain of the Texas Gulf Hurricane Season. We've seen Louisiana take a shot straight to the chin with Ida and the hot waters of the Gulf are fuel for fear just about this time every year.
The Summer 2021 heat was tempered, but in North Texas September can be as hot as any summer month. So far it appears that September will be more typical than April-August. Will we get a hurricane's rain? Will it stay hot longer? Will it cool off sooner? This is the Texas month when we can legitimately question its outdoor outcome, and I am learning to love it almost as much as October.
In many respects this September, for me, is a "fish-or-cut-bait" month; long-term decisions on efforts left to spend on which fly fishing priorities and projects, which efforts to shelve and which ones to mothball, and which ones will go balls to the wall forward.
I trust you are readers who like the long play, the honest reviews, and the long roll. That is because the next two months are more likely than not to be road trips that take us all forward, to places we've been and places (I hope) you want to know before you go. So damn the gas prices and hurricanes! Buckle up, put on the sun screen, and enjoy the fly dreams. Somehow, we'll get there from here.
Category: Adventure, Backcasting, Body-Mind-Soul, Fishing Reports