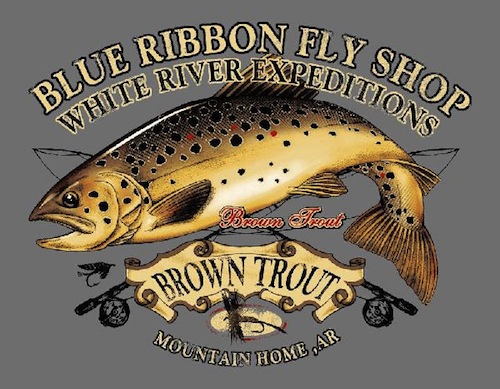 REPORT SENT IN BY BLUE RIBBON FLY SHOP
"We love where we live, and we love to share it."
We are in the middle of an extreme drought. All of the lakes are well below flood pool and we have wadable water every day. There is no rain in the forecast and we expect to have low water conditions for the remainder of the summer. It has been hot and the best fishing has been early or late. The best way to beat the heat has been to wet wade. Wear your wading boots and a pair of neoprene booties to ensure stable footing.
Hopper time is here. Use a stiff six weight rod with a weight forward floating line. A nine foot 4X leader is optimal. Cast near the bank and let the fly splash down. Be ready for a vicious strike. Take a look at our fly tying section for a suggested pattern. To increase the takes use a dropper. Pheasant tails and zebra midges have worked well.
The upper White has been very productive. The high temperatures have heated up the river downstream. Concentrate on the section from Bull Shoals Dam down to Cotter. The hot flies have been pheasant tails, copper Johns, zebra midges, green butts and partridge and orange soft hackles.
The Norfork has been red hot. With reliable low water on the White, it has been much less crowded. The hot flies have been pheasant tails, zebra midges (black and red with silver wire and silver bead), San Juan worms (hot fluorescent pink and worm brown), green butts and Dan's turkey tail emerger. There has also been a great hopper bite. The best fishing is early. Look out for rising water in the afternoon.
The Buffalo and Crooked Creek are both low and gin clear. Navigation is very limited and you will probably have to drag your boat in some sections. The hot fly is the Clouser minnow and the bite is on!
The Spring River is low and clear. Summer canoe season is in high gear and they can be a nuisance. You should fish at the Lassiter access to avoid the boats. The best flies are olive woolly buggers, San Juan worms and pheasant tails. Wade carefully. The Spring River has a lot of bedrock and can be difficult to wade.
For up to date information, drop by the shop and ask one of our professionals. Good luck and great fishing!
This month we feature one of our Guides' flies, John Berry's Green Butt Pattern. As one of the most successful patterns on the white river, it is a must to have in your arsenal of flies. Check it out!
"Five years ago, I was fishing on the White River between the New and Old Bridges in Cotter. I was fishing a Partridge and Green soft hackle during a caddis hatch and having great success. I took time out to pump the stomachs of a few trout as I caught them. I noticed that they were full of caddis with a bright green abdomen. I was beginning to realize that this particular caddis, Rhyacophilia, was our major hatch of the year. I decided to try and match this it better. I thought of the red ass which is a very successful pattern on the Little Red. I substituted a green tag to imitate the abdomen instead of the red one. I used fine gold wire for the rib to add durability and brown thread to give it a more natural look. I am sure that others have had the same idea. I have found it to be a great caddis emerger and very productive right before a hatch. I have added it to my arsenal, fish it all year, and regularly catch trout with it.
The recipe is:
Hook: Tiemco 102Y (or the 103BL, the barbless version of the 102 Y)
Thread: Danville Brown 6/0
Tag: 1/8 inch tag of single strand bright green floss
Body: single strand of peacock herl tied in by the tip
Rib: fine gold wire (counter ribbed)
Hackle: two turns of natural Hungarian Partridge tied in by the tip.
I insert the hook in the vise. I lay down a thread base. I tie in the Bright Green Floss and wrap a tag of about 1/8 of an inch. I tie in a single strand of peacock herl by the tip and a section of fine gold wire. I wrap a tight body with the peacock herl leaving plenty of room near the hook eye to tie in the hackle. I rib the fly by applying five wraps of fine gold wire in the opposite direction that I applied the peacock. I tie in the Hungarian Partridge by the tip and make two wraps and tie it off. I make a whip finish and apply a drop of head cement (fishing buddy, Dean Darling also adds a drop of head cement to the floss tag to increase its durability).
Category: Arkansas Report, Fishing Reports, Fly Tying