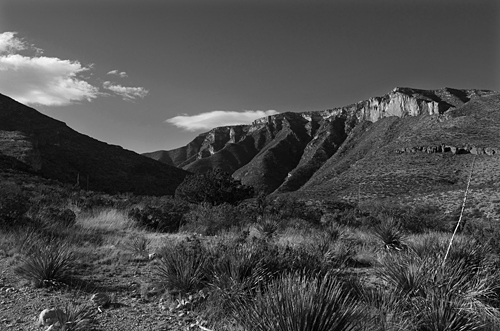 McKittrick Canyon in The Guadalupe Mountains National Park.
Upon returning from the expedition to McKittrick Canyon in the Guadalupe Mountain National Park (GMNP), I have been slowly reassembling all the sights, sounds and thoughts into some sort of organized, interesting and scientifically accurate report. Bear with me as this still may float around like a fall bigtooth maple leaf on McKittrick Canyon Creek.
If you missed the initial premise of this expedition, it was a joint effort pooling the skills of various organizations that included; Trout Unlimited (TU), Texas Parks And Wildlife, National Parks Service, New Mexico Parks and the Guadalupe River Chapter of Trout Unlimited (GRTU). I managed to finagle a spot as the "official" photographer, and it probably helped that I am a member of TU and GRTU. All this brain power was focused on the potential of supplanting a non-native population of rainbow trout with nearby Rio Grande cutthroat trout. The catalyst for the new research is from a paper by Gary Garrett and Gary Matlock. Read that paper for background. Essentially, with historical anecdotal evidence of Rio Grande cutthroat trout to the south of Guadalupe Mountains National Park, and existing populations to the north in New Mexico, a map with the layover showing cutthroat populations stopping (in a straight line) at the Texas-New Mexico border hardly seems like it could be scientifically accurate.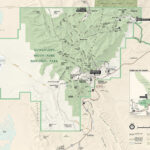 THE BUCKET LIST
As I met the participants, including personnel from TPWD's San Angelo, Texas, fisheries office, I began to be aware that none of us had been to McKittrick Canyon with the exception of Dr. Gary Garrett. Some from TPWD mentioned that McKittrick Canyon was on their "bucket list," or even at the "top of their bucket list." The fact no one had been there added something to the excitement and just like a backpacking trip along a new trail, it also leveled the field and heightened anticipation. I think at some point, everyone asked everyone else individually if they had been to McKittrick Canyon, and we slowly realized just how unique this opportunity was going to be.
THE JUMP OFF
The group convened at Van Horn, Texas, the closest town to our destination on the Texas side of the GMNP. If you go there, consider staying at the Hotel El Capitan in Van Horn. It's a beautifully restored hotel with all modern conveniences. As long as you are not in a large group, the restaurant is very good as well. If you are part of a large group, be prepared to wait awhile. Two other scientists, Jim Brooks of the US Fish & Wildlife Service and Dave Propst from New Mexico, also part of the expedition, were staying in Carlsbad, New Mexico, which is just about the same distance from our rendezvous point.
As a jumping off point, Van Horn is approximately 55 miles from the entrance to the McKittrick Canyon portion of GMNP. As a stopping point on your way to somewhere else, Van Horn and the El Capitan will take you back in time, say 50 years.
THE JOURNEY
The Guadalupe Mountains rise into the flatness of West Texas along the Texas New Mexico border. As we drove up 54 and merged with 62, the mountain range loomed large. It may not be the Colorado Rocky Mountains, but the mountains are plenty big for Texas. It's almost easier to think New Mexico, than to believe something as beautiful and impressive as El Capitan is on the Texas side of an invisible line. Step into the Guadalupe Mountains National Park, and you are stepping into Texas' mountain time zone. I'm not saying Texas is big, but …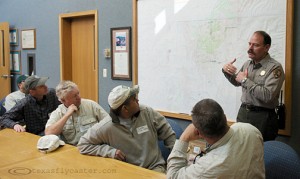 We met the National Park Service's Fred Armstrong and Jeremy Markuson at the southern headquarters and were given their orientation on the history of the rainbow trout in the canyon and scientists exchanged their ideas on information they have and would like to have on the canyon creek. Going in, there wasn't going to be a lot of technical information, like oxygen content, food sources, numbers of fish and such – but that will be provided later from the data on file with the National Park Service. There was a major flood in recent years that sent a lot of water down the canyon creek, moving boulders and reshaping the terrain. However, the trout were not washed out. As we already know, completely washing fish out of any location is highly improbable.
We loaded up and headed north again, for the McKittrick Canyon trailhead. The information center at the trailhead was pretty luxurious and if you were to go directly to the canyon trailhead, there's plenty of information to make your hike.
Our group hit the trail. It included; National Park Service's Fred Armstrong & Jeremy Markuson, Texas Parks and Wildlife's Mukhtar Farooqui, Gary Garrett, Mandy Scott, Charles Cruz & John Ingle, Trout Unlimited's Chris Wood, Jack Williams, Bryan Moore, Mick McCorcle & Jeff Schmitt, US Fish and Wildlife's Jim Brooks and retired New Mexico Fish and Game's David Propst.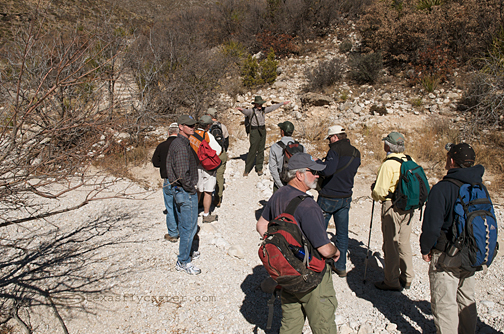 We quickly crossed a dry creek bed lined with golf ball size white river rock, and it was a lot like walking on a deep pile of golf balls. I was flying heavy with about 35 pounds of camera gear in my Lowe Pro backpack, heaviest load of everyone, and immediately aware that this wasn't going to be a walk in the park. Even though the trail is ranked as "easy" to "moderate," that depends on a few personal variables. Good hiking boots are a must. Good socks and liners are a must, as is plenty of water, and for real enjoyment, lunch and snacks. Although the hike lacks much vertical challenge, you lowlanders will be aware of breathing immediately, and need for hydration that comes with a dry climate at a starting altitude of 5,013 feet above sea level.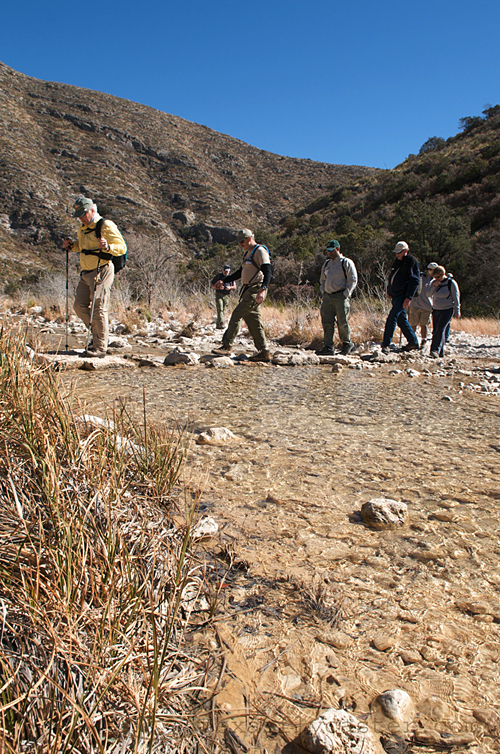 To Be Continued …
Category: Causes, Event Podcasting, Events, On The Road