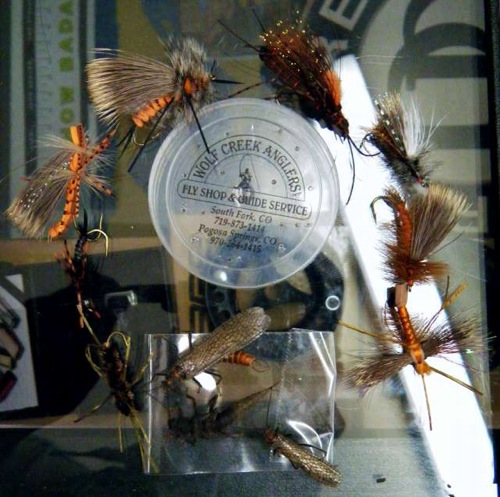 THIS REPORT COURTESY WOLF CREEK ANGLERS
Well it's that time of the year, "Summer Time"/"Dry Fly Fishing Time"!!!
As many of you may know most of the Northern Rocky Mountain States, including Northern Colorado have received Snowpacks upwards of 200% to 400%. Here in Southern Colorado, we were sitting on Average Snowpacks for most our drainages around 100% and a warm dry Spring. With the next two weeks forecasts showing highs in the high 70F's to low 80F's with 10% chance of afternoon showers in South Fork and highs in the low-mid 80F's and mostly clear/sunny in Pagosa Springs. So what does this mean for all you fly fishers out there, well, while Northern Colorado, Montana, Wyoming, Northern Utah's Rivers are Blown Out, Flooding, Not Fishable and will not be for a long time. We are Fishing Dry Flies Right Now! We have Salmonflies and Caddis Hatching on most all our local waters now. Some of the smaller creeks and tailwaters have been fishing well all month and with multiple hatches of Salmonflies, brown stones, yellow sallies, multiple caddis, PMD's, BWO's, and midges the last two weeks and it's only getting better. Fishing and water conditions are improving daily as flows step down, water clears, and warms. Within this last week we have seen the larger watersheds (Rio Grande, San Juan, and Piedra Rivers) improve drastically every day. All with hungry, happy trout willing to rise to dry flies.
Fishing, Hatches, and Water Conditions:
I'm not going to go into too much information on this newsletter because everything is changing every day and for the best….For the most up to date daily information Please Check Out Our Fishing Reports Page www.wolfcreekanglers.com or on www.fishhound.com I will be updating all reports daily.
The Big Rivers:
All of our areas Watersheds are dropping, clearing, warming, and insect activity is progressing as usual. The Rio Grande has Salmonflies and Caddis hatching now, within the next week, we will see more and better Dry fly fishing. By the last few days of June into the first week of July we can expect hatches of brown stoneflies, more caddis and then the Gray & Green Drakes, as well as Golden stones.
The San Juan River Pagosa Springs to Trujillo Float we have Salmonflies hatching in the canyon timed out perfectly to the end of run-off, the river is dropping & clearing daily to excellent floating/fishing conditions. This float can usually only be done in about a 2-3 week window of time, for fishable conditions and have enough water to float through. This float is one of the most unique floats in Southern Colorado floating through beautiful canyons and working ranches in an area that is "Totally Private", only able to be fished a few times a year.
The Piedra River is also coming around quickly the Upper River and Forks have been fishing well all week and conditions are getting better daily. Should start seeing more Salmonflies, better fishing conditions lower down the drainage, and fish willing to eat dries throughout this next week.
The Smaller Creeks:
Most all the Smaller Creeks around South Fork and Pagosa Springs, have been fishing well most all June, and dry fly fishing started much earlier than the big rivers.
Around South Fork the guides and I have fished a lot of the creeks waiting for the Rio to drop & clear.
South Fork Creeks:
The South Fork of the Rio Grande: Is at Full flows, but dropping and clearing. Nymph fishing, streamer fishing, and a possibility of BWO's & midges hatching in the slower pools. So you may be able to get your first dryfly fish of the year… Try to focus your fishing above some of the tributaries early in the morning as it is the peak of the flow for the day, just keep heading NW/upstream till you find clearer/fishable water.
The Guides & myself had fished the South Fork often recently with great success Grand Slams, good numbers, and nice fish, mainly nymphing, but some surface activity.
Beaver, Park, and Pass Creeks, are full and fast but, clear to good color. All have peaked from run-off on the fall & clearing. Wading fishers should focus on these streams or higher up in the drainage's if on the east side.
La Garita, Embargo, Alder, Willow and many other smaller creeks in the South Fork area are at full flows, and clear, fishing well, nymphing and dry/dropper rigs.
Pagosa Springs Creeks:
Williams Creek flows are full & fast, but clear to cloudy. Fishing has been Great. Mainly nymphing, been getting some really large fish out of this little creek lately! We all have fished & guided Williams a lot lately, with great success, tons of hungry happy fish! Getting more dry fly activity daily, with the warmer weather. Salmonflies Hatching on Williams Creek, as well as yellow sallies, caddis, PMD's, BWO's, and midges!!Dry Fly Season is Here! I fished Salmonfly dries on Williams 2 days ago for about 3 hrs. with great results, 30 some landed and a few lost, and 1 species away from multi- Grand Slams!
The Middle Fork of the Piedra is starting to fish well, mainly all nymphing and really nice sized fish (13-18″) being landed out of this little creek lately. The East Fork of the Piedra is clear, but pushing a lot of water, may want to wait a week or so for easier fishing conditions.
The West Fork of the San Juan is fishing good, streamers and nymphs for now, but some stoneflies are starting to hatch. The East Fork of the San Juan is still a little fast and cloudy but fishable, nymphs & streamers, should get better every day.
Lakes:
All of our area lakes are clear of ice, roads, trails and gates are open. Most all the Lakes are fishing great; lower elevation lakes have hatches of chironomids, damsels, and caenis (white curse!). Higher elevation lakes are still a little on the cold side, fish are feeding more on woolly buggers, leech patterns, and streamers mostly. Also the Lower Elevation lakes warmwater fishes are feeding well with the thicker weed growth and warmer water temps.
The Fly Shops:
We are getting in tons of new products in every week in the fly shops, a lot of brand new gear and flies to come check out. We would also like all of you to Welcome our newest employee Eric Wiens, he will be working in our South Fork Fly Shop, Eric is pictured above & here with me with the two doubles we caught his first day in South Fork.
Check out Local Fishing Reports on : Wolf Creek Anglers Fishing Reports page and Fishhound.com
Sales & Specials: We have many items on an preseason sale at the fly shops! Many discontinued items being replaced for 2011, please call either fly shop if interested in picking up some new discounted gear.
Wolf Creek Anglers "Summer" Fly Shop Hours:
Pagosa Springs & South Fork Locations- OPEN 7am. to 7pm. 7 Days a Week.
Category: Colorado Report, Equipment, Fishing Reports