This may be the biggest news for fishing the Southern Texas in years. Does it mean the new location will be surrounded by private badlands? Landowners around the majestic Devil's River are notorious for their militant enforcement of their waterway-landowner rights. Maps anybody? Texas Devil's River information.
From TPWD News Release –
AUSTIN, Texas – The Texas Parks and Wildlife Commission on Nov. 4 will consider a proposal to acquire a 17,638-acre property for a new state park on the Devils River in Val Verde County. Texas Parks and Wildlife Department leaders will hold public meetings about the proposal Oct. 20 in Del Rio and Oct. 26 in San Antonio.
The proposal would result in the exchange of the existing Devils River State Natural Area as partial payment for a privately owned ranch downriver, which would become a new state park. The ranch has significantly more river frontage and better public access as well as outstanding natural and cultural features.
"By repositioning our existing assets along the Devils River, we can increase public access to and awareness of this spectacular river, as well as expand protection of this region's uniquely important natural and cultural resources," said Carter Smith, TPWD executive director.
"A permanent conservation easement on the existing state natural area property will prevent unsuitable development and ensure continued protection there," Smith said. "The new property, which is also protected by a conservation easement, will become a premiere park to boost the regional economy and provide enhanced recreation options to Texans for decades to come."
The ranch has 10 miles of frontage on the Devils River and Amistad Reservoir with spectacular views from mesas and canyons, and a variety of wildlife habitats.
If the commission approves this proposal, TPWD is committed to a comprehensive master planning process, involving a broad spectrum of stakeholders, including landowners, paddlers, traditional park users, and local officials, resulting in a public use plan outlining how and when people can enjoy the property.
"The agency's goal is to balance landowner rights along the river with public recreational access and effective stewardship of this region's incredible natural and cultural resources," says Scott Boruff, Deputy Executive Director of Operations.
The department is working to inform elected officials, Devils River landowners, key stakeholder groups and the public about the proposal. The agency will hold two formal public meetings where they will explain the proposal and answer questions:
6 p.m., Wednesday, Oct. 20 – Del Rio Civic Center, Mesquite Room, 1915 Veteran's Blvd., Del Rio, TX (830-774-8641)
6 p.m., Tuesday, Oct. 26 – Central Public Library, 600 Soledad, San Antonio, TX (210) 207-2500
The public may comment on the proposal at the Nov. 4 Texas Parks and Wildlife Commission meeting in Austin.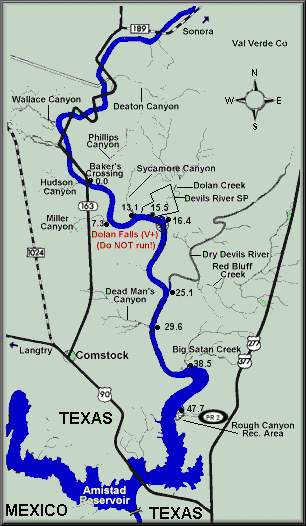 Category: Causes