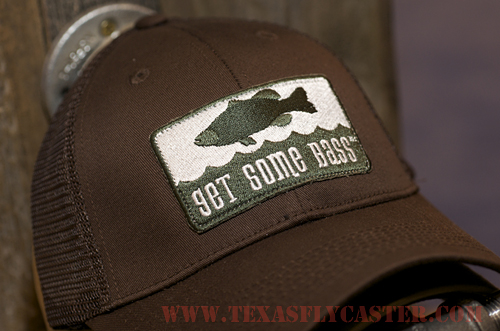 New "Get Some Bass" hat by Matt Jones of Twintail Clothing Co. in Dallas, Texas.
I don't know if you realize this, but outside of Texas, outside of Texas fly fishing circles, the first thing that comes to mind when "Texas" is used in a sentence is typically not fly fishing. Sure fly fishers are trying to change that perception, but Texas companies really are changing the perception of Texas as a fly fishing powerhouse.
Imagine my surprise to find so many Texas manufacturers representing themselves at the International Fly Tackle Dealer expo in New Orleans last weekend.
Temple Forks Outfitters
The biggest fly fishing company in Texas is Temple Forks Outfitters, based in Dallas, Texas. Their booth was hopping busy at the edge of one of the casting ponds, with the likes of Gary Loomis, Lefty Kreh and Flip Pallot roaming around, signing autographs, dispensing pearls, and casting with anyone who was interested. One of the great things remaining in fly fishing is the accessibility of legends and their willingness to talk fly fishing to anyone who will listen.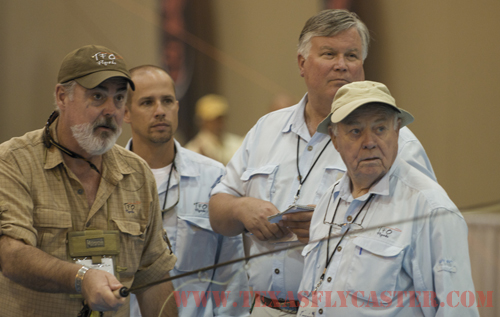 Lefty Kreh shows the TFO crew how to do it right.
TFO's products still hit that sweet spot in pricing while delivering better performance year after year. Although I continue to enjoy my 5wt BVK rod, I have been on a bit of a reel search lately, and I wanted to get my eyes on the new BVK reels. They look to be a more serious reel than their last foray into machined reels – the Prism. You really don't have to look far to see what I think of that reel, but comparing the BVK to the Prism is apples and oranges. The BVK is machined to heavier clearances (thicker aluminum left on parts), and although they don't pretend to use exotic aircraft grade aluminum, the machining looks better without any frills and full of function. When I saw the BVK in opaque green … I need to give that one a go. Everyone working the TFO corner was friendly and just like their superstars, they were anxious to take time to talk and listen to anything anyone had to say.
YETI Coolers
Nearly a household name, at least in my house, YETI coolers are truly superior coolers. I hope my Grandpa isn't rolling over in his grave for abandoning his Igloo line of ice chests, but I am sure he would get a kick out of the quality, made in the USA, and then faint from the price. I must have stocked hundreds of Igloos in Grandpa's store in Weslaco, Texas, and they were good coolers. Sure, every so often a a latch or a hinge would go, but Coleman was not even a contender down south. YETI takes construction and quality to a whole different level. I have a hard time imagining why these would not be the last coolers you ever, EVER own. Vice President of Marketing's Rick Wittenbraker, also of Austin, Texas, was very upbeat about YETI's business outlook and said the IFTD show definitely was positive for him.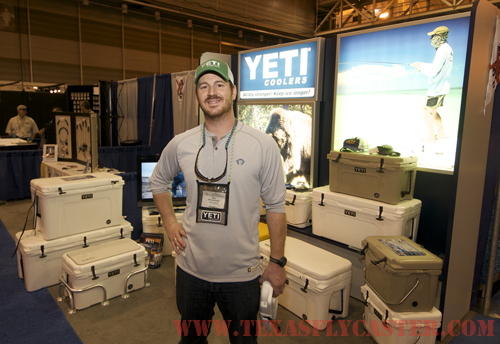 YETI's VP of Marketing Rick Wittenbraker in the YETI booth, New Orleans, Louisiana.
Clear Cure Goo
As I was preparing to fish the salt in New Orleans area, now redirected to Corpus Christi, I really wanted to get my hands on some of this stuff for the saltwater flies I am working on. Clear Cure Goo's owner,Brian Carson, also lives right here in North Texas – just down the road in Southlake, and is happy with the progress his company has made in about two years, as well as the increasing line of products made for different fly tying applications. CCG is a UV activated hardening substance that can, in the right fly tying hands, take your flies to a whole new level of creativity and realism. This is a product that could be intimidating, but Brian's instructions are clear and concise to the benefit of fly tiers who use his products.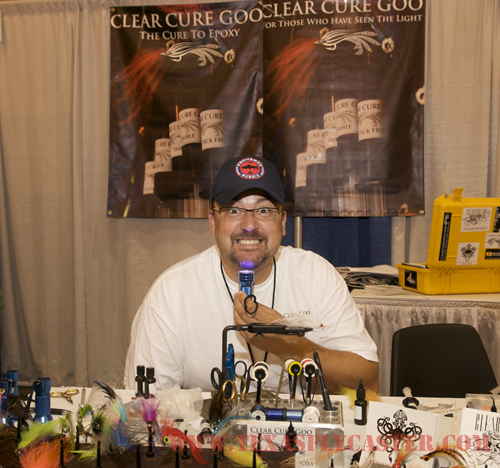 Never a dull moment with Clear Cure Goo's Brian Carson.
Howler Brothers
The Howler Brothers, out of Austin, Texas, are a clothing manufacturer with hip forward thinking graphics and designs created for the after hours of your water related existence. T-shirts, tropical shirts, hats and accessories are the tip of the creative iceberg for these creative guys out of Austin. They have a well developed theme to their work, and I think it's safe to say that someday you will think to yourself, "Oh yeah, I remember those guys before they got BIG!" Look for more of their products to be placed in some of the photography you see here.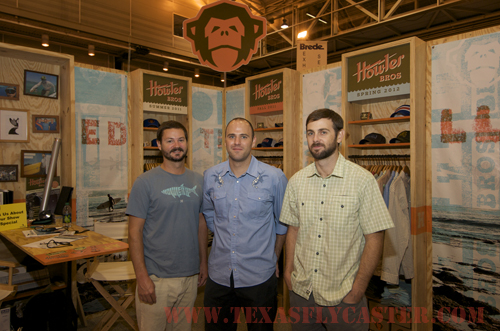 The Howler Brothers out of Austin, Texas. Cool clothing of the future.
Twintail Clothing Co.
A creative effort by Matt Jones, who works for Tailwaters Dallas, Twintail Clothing is a new hat and t-shirt company that uses catchy, some would say edgy, sayings with strong fish graphics to provide fly fishers with a fresh flavor unlike any other. If you can get away with "Get Some Tail," or "Get Some Poon," then check out Twintail. I will actually be carrying Matt's hats beginning this fall. I'm already wearing his hats, and you can expect them in photography as well – like a NASCAR driver at the end of a race.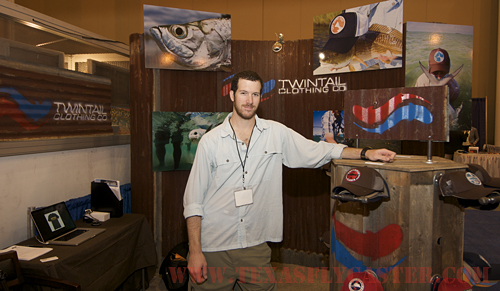 Matt Jones in his Twintail Clothing booth that he designed and displays his cutting edge fly fishing photography as well.
Diablo Paddlesports
What can I say? I dig the boat and the people behind the Diablo brand. Diablo isn't resting on its laurels either. They are openly buzzing about a roto molded boat model to come out next year. Imagine that! In my travels, and representing Diablo as a Pro Angler, one of the things that keeps kayak rental companies at bay is the difference in durability between a hard body and a roto molded boat. Well, here it comes, next year Diablo will introduce a new roto molded kayak, and of course we will be at the front of the line to give it a try. Who knows, this may even be the boat that launches a new kayak rental service at Ray Roberts.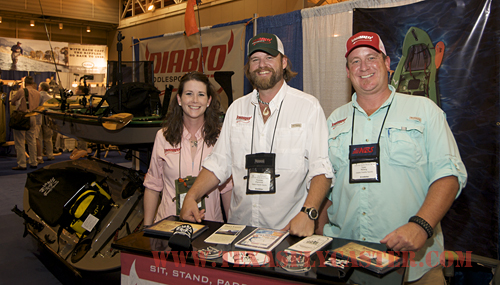 Diablo Paddlesports is talking about a new roto molded boat for 2012. Stay tuned.
Category: Clothing, Equipment, Events, Fly Reel, Fly Rods, Industry, kayaking