IFTD Expo New Orleans #howlerbros Howler Brothers texas fly fishing manufacturers fly fishing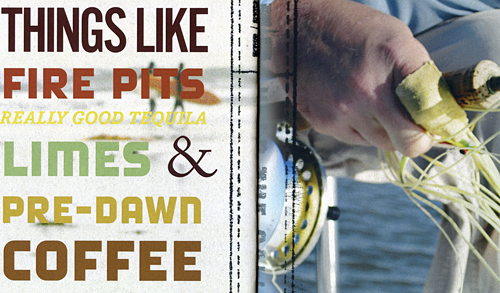 Courtesy image – Howler Brothers Catalog 2011-2012
There were plenty of vendors from the "old school" at the IFTD Expo in New Orleans, like L.L.Bean and the new old school Simms. Then there's the edgy new clothing by the Howler Brothers. You probably won't be seeing Lefty or Flip wearing these clothes after hours anytime soon.
The Howler Brothers hit a market that's been waiting for clothes for them for awhile. It's the same market that is producing some of the most artistic, creative and adventurous fly fishing movies and art as well. It's the next generation.
"Its more about place, feel and lifestyle. In our minds, thats our separation point from, say, Simms, if I can be so bold as to mention us in the same sentence," said Howler Brothers founder Andy Stepanian. "As you quickly figured out, our whole thing is about lifestyle and "look and feel," he said.
Their styles are smart. They take something like a traditional "Texican" six pocket shirt, remove a lot of the embroidery the traditional Mexican shirt and trim down the fit for the young flat bellied (hungry) crowd. About as technical as the Howlers get is a long sleeve lightweight flats tee. The Howlers are about after hours, casual clothing the surf, fly and paddle crowd can wear with their Birdwell Beach Britches or whatever other pantalones they happen to have packed.
Their catalog of styles isn't that thick, but the Howler Brothers have a sizable selection of graphic tees, new plays on the traditional shirts, trucker hats and a few sharp accessories. Your bud probably won't have a Howler monkey belt buckle, but you've got to love the design, so skip that college algebra book and get the buckle. And that's the way they want it – ".. avoiding overly traditional ideas, and use small batch production and collaborations with artists and craftsmen to create original, alternative offerings."
That's what makes the Howler Brothers the ones to watch – design. Their graphics, designs and attention to fit and finish are a breath of fresh air to a market that has been waiting a long time for something that "fits" their lifestyle. The Howlers have it.
Texas Fly Caster is proud to welcome the Howler Brothers to a growing list of paid advertisers on www.texasflycaster.com as well!
Category: Clothing, Culture on the Skids