December was one tough month for fishing around these parts, few carp were to be seen and none caught. I made seven separate attempts to keep the "Carp-a-Month" streak alive, the last being on new-year's-eve. I wouldn't want to call it hardcore, fourteen attempts may be hardcore. It was more like "a little obsessed." I even pounded some hapless buffalos (I know not carp) when we fished at Denison on 1-1-11.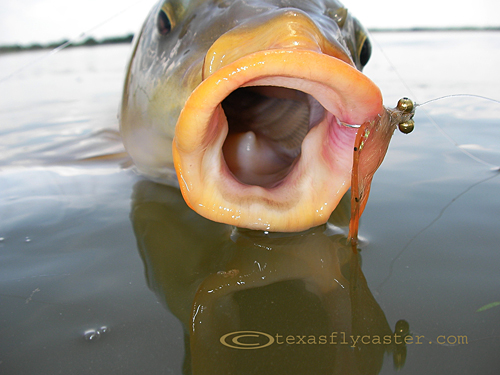 This is what was supposed to happen.
Nevertheless, January and February will stack up to be equally difficult. The observations we have made about winter common carp on the flats on a fly rod are:
1) There aren't very many
2) They are extremely spooky
3) Their diet is a mystery
4) The angle of the sun in the sky makes longer shadows (advantage carp)
5) The weather is a huge factor – clouds, extreme temperatures, ice and even snow can erupt at any time
With these known liabilities, it makes just as much sense to target carp in creeks and rivers – it makes more sense actually. I do envy the guys who can catch river run carp – they are the real magicians waving their wands with magic flies on the end. River run carp are much more wily, selective eaters, and fight a whole lot more than their lazy lake cousins.
Even though still ailing from a fierce cold, today is none too soon to head back out to try and start the streak all over again. Amazing, it will take a year (or more) to determine the streaks failure or success.
Category: Culture on the Skids