Texas Carpnado Carp Tournament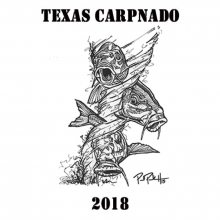 A fun event offering fly anglers the opportunity to spend the better part of two days combing their favorite carp waters across the entire state of Texas, searching for any of the four primary species of carp in the State.
We will have five total prizes to win – They must all be caught on public waters and without a guide
1.Top 5 Fish Prize – The top 5 Common Carp, Mirror Carp and Koi you catch will count towards your total score. There will be prizes to award for the top 3 contestants. Grass Carp not included in the 5 fish total
2. Big Fish Prize – This prize says it. If you catch the largest Grass Carp, Common Carp, Mirror Carp or Koi during the tournament you win the big fish prize
3. Small Fish Prize – Yes you read that right if you happen to catch a wee Grass Carp, Common Carp, Mirror Carp or Koi you are the lucky winner!
The event will conclude at 5pm on August 12th at the Tupps Brewery in McKinney, where participants will enjoy a meal from one of our regional food trucks, along with their first round of Tupps beer, while swapping stories, participating in activities, and enjoying the closing award ceremony.
Cost per person to participate will be $75 per contestant. Contestant will receive 1 Meal ticket. 1 beer ticket and a T-shirt
A high percentage money from contestant entry fees will be donated to Patriot Anglers. An amazing group of guys based in North Texas and Southern Oklahoma with a mission to provide mentorship to our disabled and medically affected Veterans in North Texas and Southern Oklahoma through fly fishing.
Live Captains meeting will start at 7am on Saturday August 11th after completion of Captains meeting you can fish anywhere you like. Lines must be out of the water by 4pm on August 12th and You must Arrive at Tupps Brewery in McKinney to check in by 5pm. If your late you will be disqualified please plan accordingly.
VISIT THE SITE – Texas Carpnado Information
Phone:Steven Palmer (469) 487-3091
Mail: [email protected]
Category: Fly Fishing For Carp, Tournaments and Contests