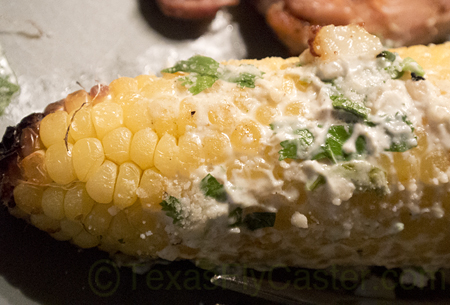 I am a corn fan, and this elotes corn on the cob is to die for. Give it a go next time you fire up the grill.
Ingredients
1/4 cup mayonnaise
1/4 cup sour cream or Mexican crema
1/2 cup finely crumbled cotija or feta cheese, plus more for serving
1/2 teaspoon ancho or guajillo chili powder, plus more for serving
1 medium clove garlic, finely minced (about 1 teaspoon)
1/4 cup finely chopped cilantro leaves and tender stems
4 ears shucked corn
1 lime, cut into wedges
1
Get your coals going. Once they are all lit, and covered with gray ash, pour out and spread the coals evenly over half of coal grate. Alternatively, set half the burners of a gas grill to high heat. Set cooking grate in place, cover gill and allow to preheat for 5 minutes. Clean and oil the grilling grate.
2
While coals heat, combine mayonnaise, sour cream, cheese, chili powder, garlic, and cilantro in a large bowl. Stir until homogenous and set aside.
3
When grill is hot, place corn directly over hot side of grill and cook, rotating occasionally, until cooked through and charred in spots on all sides, about 8 minutes total.
4
Transfer corn to bowl with cheese mixture and use a large spoon to evenly coat corn on all sides with mixture. Sprinkle with extra cheese and chili powder and serve immediately with lime wedges.
Category: Culture on the Skids, Eating and Drinking