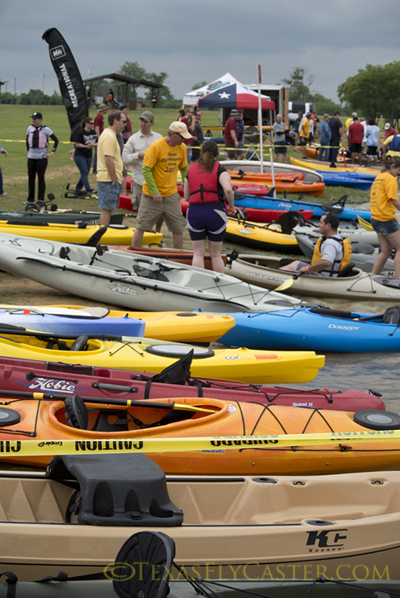 Despite a weakly promoted event last Saturday, and less than favorable weather, the Texas Paddlesports Show at Lake Grapevine, Texas, had a fantastic turnout with participants taking demo paddles, and learning about the sport of kayaking from several North Texas kayak dealers.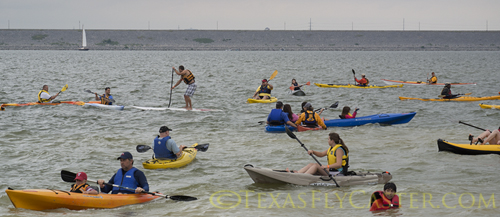 Most people who are new to kayaking, are slow to realize that there are probably a hundred different brands of kayaks from coast-to-coast in the US. Kayaks, like saltwater boats, are highly regionalized and if you search deep enough, the list of manufacturers is long and actually growing. Bottom line; high gas prices drive boaters to kayaks every time.
So, while locally Texans pay a lot of attention to national brands like Wilderness, Hobie, or Jackson, it's good to see the reaction to a local brand like Diablo Paddlesports, who has gained national traction with their inclusion in Orvis catalogs and a growing number of dealers starting to realize the benefits of Diablo. You can now find Diablo at Backwoods in Fort Worth, Texas, and although I did not see a Backwoods presence at the show, you can also find Diablo Kayaks at a store I will be visiting this week – Angler's Pro Tackle and Outdoors in Hurst, Texas. As far as brands go, you can search through them all on the internet, but just like flats boats, you will generally find yourself narrowing the search down to a few locally carried (big) brands anyway.
If you sit in and listen to kayak dealers speak to prospective new kayakers, a lot of emphasis is on alternative methods of propulsion. Even local Hobie Pro Shaun Russell is running Lake Ray Roberts on a Hobie Mirage Adventure Island these days.

I really couldn't believe the speed I saw with novice kayakers peddling the Native Ultimate Propel boats either. They are extraordinarily agile and quick.
It's also impossible to overlook the standup paddleboard's growing presence in the kayak market as well. They are extremely popular on enclosed city water in Austin, and could eventually earn their place on the larger waters of North Texas. However, Saturday was a perfect example of the disadvantages a paddleboard around here.