oklahoma fly fishing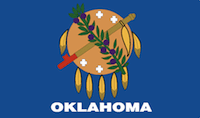 News of the Week
Jan. 8, 2015
State Trout Stocking Affected by Supplier Problems
For several weeks, fewer trout than usual have been stocked at Oklahoma's designated trout fishing areas because of production problems experienced by the state's contracted supplier.
Twice in December, Cedar Springs Trout Farm of Broadwater, Neb., reported that it suffered power supply interruptions that curtailed the supplier's ability to deliver the number of fish needed to continue normal stockings on schedule.
To effectively manage the situation, the Oklahoma Department of Wildlife Conservation has tried to maintain the same frequency of stockings at the various trout fishing areas, but with a reduced number of trout being stocked each time.
"We don't want Oklahoma's trout anglers to think that there's no point in going fishing," said Ken Cunningham, Fisheries Division assistant chief for the Wildlife Department. "We are still stocking trout, and there are still trout out there for catching. It's only that there are going to be a few less trout in the water than anglers might normally be used to."
Cunningham said Fisheries Division crews have been able to keep on schedule with stockings in most designated trout-fishing areas by using fewer fish and by procuring a small number of additional trout from other suppliers.
"Anglers go trout fishing for many reasons, like the experience of being outdoors, the recreational benefits and the relaxation that can be found amid nature's beauty," Cunningham said. "If you are considering a trout-fishing trip, it's still well-worth going, and you can still catch some trout for the table."
Trout, both rainbows and browns, are introduced species to Oklahoma. They thrive in colder waters and make excellent table fare. Trout are not produced at any of the Wildlife Department's fish hatcheries, so trout suppliers are contracted to supply fish for the state's annual trout-stocking program.
The Oklahoma Department of Wildlife Conservation operates two year-round trout fisheries in the Lower Mountain Fork River below Broken Bow dam and in the Lower Illinois River below Tenkiller Ferry Dam. Trout are normally stocked in those areas every week or two, but actual stocking days vary based on trout delivery schedules.
The Wildlife Department has six other designated trout fishing areas where trout stocking season began Nov. 1 and will continue into March or April. Those areas are Perry CCC/Lake Perry Park, Robbers Cave, Blue River, Lake Watonga, Medicine Creek and Lake Carl Etling.
Trout fishing is also available from Dec. 1 to Feb. 28 at two Close to Home Fishing locations in major urban areas: Oklahoma City's Dolese Youth Park Pond and Jenks' Veterans Pond.
Trout anglers must carry a resident or nonresident fishing license while fishing. In addition, trout anglers at Dolese Youth Park Pond must have an Oklahoma City fishing permit.
Category: Fishing Reports, Oklahoma Report