Choosing the Right Rod and Reel For New Mexico Small Streams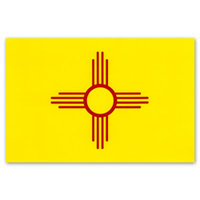 I have a friend, this old codger who is about to retire from a cushy professor job that he's had so long … he actually knew what he was teaching, and got paid for it! You know, the days before universities became bottom-line corporations.
Besides his great spot on Lake Kiowa, he has a second casita on a hill overlooking Downtown Santa Fe, New Mexico. And it's that home that comes with some fantastic trout fly fishing opportunities. He made some contact there, at one of the fly shops, and whoever he met filled his head with the idea he was in valhalla for brown trout. I would never deny my limited knowledge of that part of New Mexico, so what am I to do, but get him ready for retirement.
He is ready for something small, and matched to the fish he's going to find in that part of New Mexico and Southern Colorado.
FLY RODS FROM MY QUIVER
From my quiver, I pulled three rods to show him, rods I have had a long time, caught a lot of trout on, and rods that travel well. They're versatile, and they are sized for the potential small stream, tight overhanging trees and shrubs that can foul a day pretty quickly.
That's another thing. Although this guy is considerably older, he still has a signifiant case of ADD. If he doesn't catch, it's time to go. If he has to go too much? It really IS TIME TO GO NOW. So, we don't want him to get frustrated in this new habitat.
THREE RODS
The three rods I would go mountain man with are:
TFO BVK 8-foot 3 weight

TFO BVK 7-foot 9-inch 4 weight

TFO Finesse Glass 7-foot 3-4
I have had, and sold all of my rods – below five weight – that are 9-foot rods. And I can never imagine going back. It's hard to figure out why the dice landed on 9 when it comes to modern fly rod length, but we are going through some blow-back in recent years, as it dawns on fly fishers; why the heck do I need a 9-foot crack pipe? Couple that enlightenment with the advent of legal bass rods, and the door was blown wide open when it comes to rod length.
Of the three rods listed above, the TFO 4 weight is now available in 8 feet only. Three inches really don't do a lot to the overall performance of this rod. That's because, in general, when we are dealing with these ultralight small rods – the differences between those of the same family, and the differences with other families, like Sage or Winston, are so minute as to be completely negotiable. Sure, you will get the latest generation whiz bang from the high end rods, but can you feel it? Does it matter that much? The TFO warranty trumps any minute chills that a Sage runs up your pant leg anyway.
Whenever you get to five, then a rod can speak to you more clearly – in its own language that you either understand, or you don't. I would stand by my Winston BII five weight in case the old codger invited me to a place, like the San Juan River Navajo Quality Waters. That's a place that has some fantastic trophy fish that would break one of these small rods like Bo Jackson breaks bats.
Now this education is a "ground-up" outfitting for this old gentleman, so we also need to look at reels and lines.
Best Small Fly Fishing Reels Under 200 Dollars
This is another great reason to pull the trigger on a small fly rod – reels at this size are also extremely affordable as well! There is no good reason to spend a lot of money on reels at this size because drag is rarely an issue, rust is no issue, and the reel often amounts exactly to what it has been so often called – A LINE HOLDER.
If I were buying new small reels today? I would honestly have a hard time deciding which reel to buy. Many of today's reel makers realize the function of their reels has never been better – advanced drag systems, computer controlled production machining or casting. The average reel today is mechanically light years ahead of the best reel of fifteen years ago. Some of the old technology has survived, but that reel technology has also been upgraded by the technological revolution.
So how are today's small fly reels different? The drag systems ARE different for different brands, and different models with in a brandname, and the materials can be cast or machined aluminum. But the big differences are in the sexiness being designed into fly fishing reels these days. These designers are learning from sports car design; creating reels that look like they are moving even when they are standing still. New anodized colors, machined textures and mixing of materials for knobs – all can make a reel look like spinner rims on a low rider.
My small reels are the same as they were ten years ago – with one new addition this year, as I evolve away from my originals.
Those two are the Orvis Battenkill BBS II reels. They are simple, small, reliable, warrantied, affordable and they never miss a beat. The third reel that is moving into my trout driver is a Lamson Guru 1.5.
The Lamson lacks the screaming drag and reeling sound of the Battenkill, but I have come to appreciate that silence.
But since I was doing my due diligence for the old guy … I started looking around at reels, and was extremely impressed with today's choices.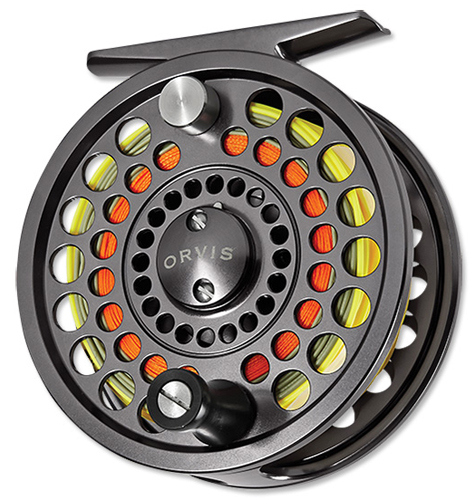 Strangely, as a brand, Orvis seems to be less sexy than a lot of other brands, but still an affordable choice.They run about $160-dollars, and have recently been updated.
I looked at the Reddington line of reels, and really like the price and look of the ZERO reel. I am not sure what they are made of, but they are a cast reel, and lightweight.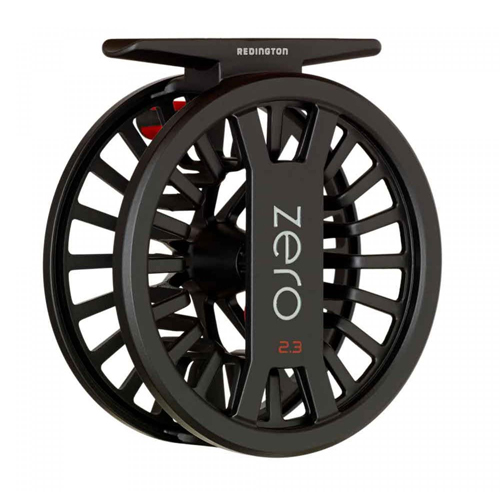 Lightest reel in its class

Unmachinable, unique die-cast construction

Super-lightweight design with quick-change spool

Spring loaded, clicker drag system

Easily converts to left or right hand retrieve

Twin molded, soft-touch ergonomic handles

Large arbor design speeds retrieve and reduces line memory

Nylon reel case included

Lifetime warranty
The Sage 2200 is at the bottom of the Sage fly reel line, at $170-dollars, but doesn't look like the bottom of anything. This is a great looking reel, and has a good deal of technology under the hood. It's twice the price of the ZERO, but looks like it too.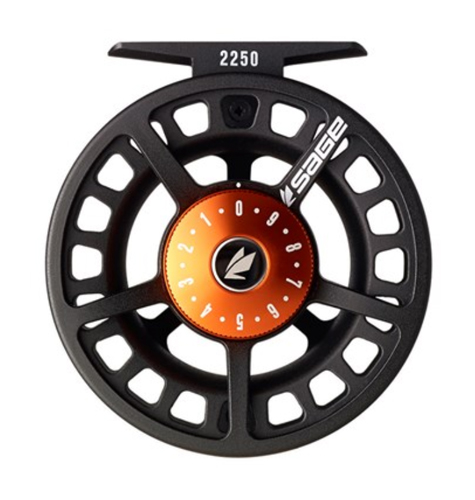 SCS drag design

Large arbor for fast line pick up; Concave arbor for greater strength and capacity

Large machined one revolution drag knob with numbered and detented settings

Ergonomic machined aluminum handle

Easy conversion from left- to right-hand retrieve

Neoprene and embroidered ballistic nylon reel case
These are good looking reels, and at a good price. Cork drag gets my attention every time.The price point is right in line with the competition here at $140-dollars. Seeing as he's retiring from UNT, the green anodizing should be the cat's meow.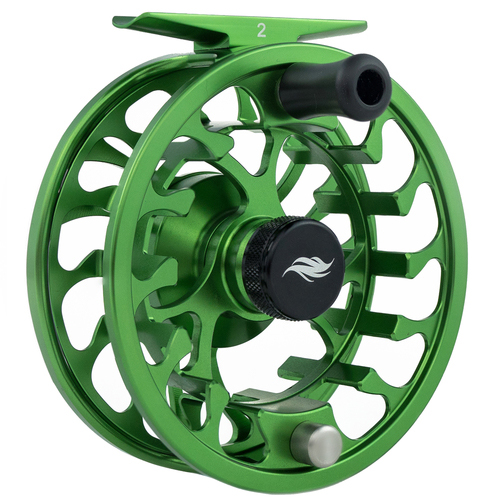 Fully machined aluminum spool and frame

Cork disc drag system

large arbor spool

Click retrieve and click drag

Bearing-less disc drag system

Easily converts from left to right hand retrieve
Probably the lowest on the totem pole is the Waterworks Lamson Remix model. It is the bottom line Lamson, and I guess I have just been spoiled by my Gurus look and feel. The Remix just looks chunky, but if you need a big, easy to find drag knob – think about this one at $180-dollars.
It's their cast reel, and I had problems with the finish on one of these — they show punishment very quickly.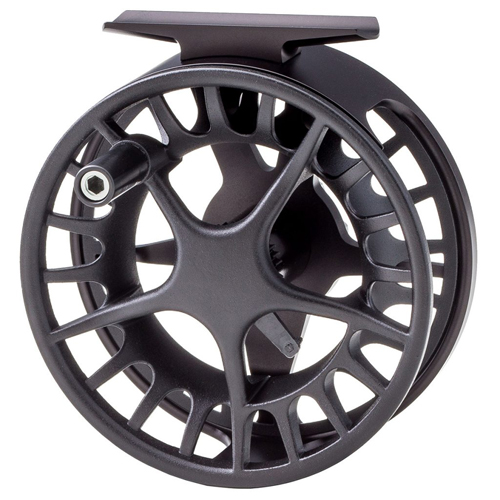 format: Large Arbor

materials: Machined 6061 Aluminum Case, Pressure Cast Aluminum Spool

finish: Type II Anodize Case, Polyurethane Spool

drag: Sealed Conical Drag

80% US Manufactured, 100% Idaho Built
CONCLUSION – For a classic size, look and sound – it's the Orvis Battenkill. For a modern looking reel, I like the Reddington ZERO, but wonder what it is actually cast from? Next to that, it is hard to go wrong with the Sage 2200 series. The Allen Fly Fishing reel is probably the toughest reel – it's machined, while all the others are cast, but that does make it hefty. If you want a splash of sentimental color, don't hesitate to do the Allen Reel.
TUNE IN FOR PART 2 – Fly Line and accessorizing for safety.
Category: Complimentary Reading, Equipment, Fly Reel, Fly Rods