texas fly fishing galveston saltwater texas gulf coast #flyfishing houston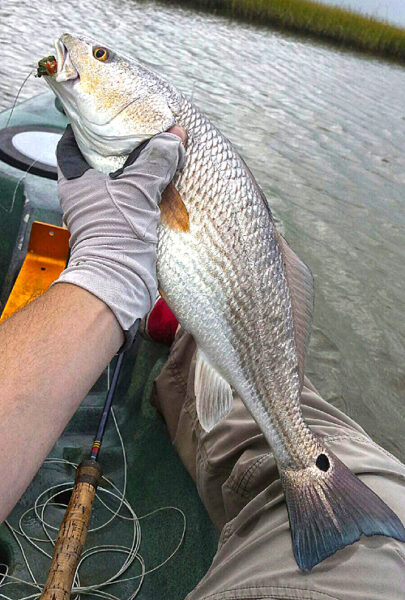 Look at that tail! Notice the conditions in this photograph. Overcast skies and obviously not HOT weather in the Galveston Bay System. It's primetime!
NOTE – I encourage you regulars to continue visiting Texas Fly Caster on a daily basis, even if you find the .10-cent cost of a fly fishing article too expensive; because there are still plenty of news stories about fly fishing in Texas that are sent in, and published as "Complimentary" (Comp) reads here – at all hours of day, night and days of the week! The Saturday night story from Galveston is a perfect example of what you'd miss if you weren't checking in regularly. As always; A BIG WELCOME to new visitors!
THE HEAT IS ON
I hope you took some time Sunday to look at the short fly fishing photo report from the Galveston Bay System by Danny Scarborough at www.houstonflyfishing.com. His images from Galveston posted here late Saturday night, and should generate excitement for those of you who fly fish the Texas Gulf Cast TO GET OUT AND GO. Danny utilizes his kayak and fly rods to catch fish in the Galveston system, and if he's ever been skunked, it hasn't been with me! Check in with Danny about guided trips on salt, and in the bayous of Downtown Houston, Texas. AND, if you have information about fish on the fly anywhere in Texas – feel free to send it in like Danny, and tell, don't just show what you know about fly fishing in Texas! Don't waste your good information on the limited system called Facebook – where only people you know can find it!
One of the many variables we have in saltwater fly fishing is temperature, and the temperatures have finally started to drop from west to east, and on the shallow estuaries of the Texas Gulf Coast. That spells good news for shallow fly fishers, as the shallower waters finally cool enough to make the fish population frisky and more mobile.
CHILL FOR REAL
We also have a "dead cat bounce" that occurs here in freshwater fly fishing once things cool off here as well. As bass start to prepare for the ides of winter, they will go through a heightened period of activity until the real cold comes (here to North Texas). I wouldn't be surprised if the bass activity has already picked up on your local waters.
HOWEVER, we Texas fly fishers have had a season, a calendar year 2014 if you will, full of variables.
There is really no telling just how wet, how warm, how cold, how anything this final season of the year 2014 will be. The weather heads have changed their El Nino´ back and forth, drier, wetter than "normal" … who really knows what "normal" is anymore? Heck, by the time you read this on Monday morning, you will have had another line of storms pass by, possibly severe, and even cooler weather behind it. I believe we are in a weather era where the "new normal" means there is no "normal." That sure seems to be the trend anyway. How long will it last? God only knows.
This "new normal" in weather means we fly fishers have to adapt and change. Throw in biological disasters, like the zebra mussel, and these adaptations (we make) are a topic for dozens of potential future stories here at TFC.
REMEMBER? Know Before You Go!
We all have fly fishing outings that are purely controlled by the time we have on our clocks – the time we have off from work, the time we have off from family chores, commitments and all else. THEN WE ALSO HAVE fly fishing outings where we have choices. When we have choices, we need to know before we go. We need to know the extended weather outlook, the wind, the tides, the water temperatures, the moon phase – rise and set as well as any other variables that go into your fly fisher's stew for success. You will find plenty of articles here, in the archives, about these variables. Just use the search box to find out more about the fly fishing variables you can encounter in Texas.
TFC MEMBERSHIP HAS ITS REWARDS – I am running a giveaway here for people who purchase a year's subscription to Pay-Per-View content at Texas Fly Caster. I'll be giving away the first YETI 30-oz. Rambler in November (look at the left column please) – in a drawing from those who choose to do an annual subscription to TFC paid content! This is an ongoing contest! If you don't win the November YETI  Rambler, your name rolls over into the December giveaway! Seems like one of those no-brainer buys to me!
TODAY'S COOKING TIP – You can watch the Monday Morning Sidewalk free YouTube video to learn about the fascinating hoja santa, a Mexican plant used in many dishes. It's one of those flavors that makes the taster say, "hmmm, what is that?" With the new weather zone alignment we are experiencing in Texas, you can even grown this attractive plant in your North Texas yard. It's scientific name is piper auritum, and ours has been quite an interesting addition to the landscape. It doesn't need tons of water, but it tells you when it needs it! It is also known as yerba santa, hierba santa, Mexican pepperleaf, acuyo, tlanepa, anisillo, root beer plant  and sacred pepper. We have a few Central American friends, here in Denton, who come by and harvest a leaf every now-and-then.
Category: Culture on the Skids, Eating and Drinking