Good Monday to the fellow Texas Fly Casters – not only in North Texas, but all over the huge State and wide world as well. In case this is your first visit, you have landed on the longest running – AND ACTIVE – website that is about fly fishing and specifically Texas fly fishing and almost all the topics that go with it.
Some of those topics can get a little "controversial" at times, but always remember: Just as we continually pattern fish based on history, mostly our own history, we can also pattern a lot bigger topics coming in the future. I would suggest that fish are a lot harder to pattern than is human behavior. Underlying all you find here? Just as you read in the good book, and what good journalists also live by, "The truth will set you free." It is also the ultimate defense against libel, as I learned in journalism (thanks Roy Moses for that perfect and beautiful J law section!)school!
It Is Bright
And this morning, I would say the future is bright! Frankly, with a morning temperature starting in the 70's for the first time in months? How could anyone say otherwise. And the water actually says the same to us today.
Lakes in North Texas appear to have survived this long run of heat with water saved and ready for what comes next. It may be a return to a couple months of heat and high water usage by homes invested in the green of their grass. It may be a reprieve from the heat. This is Texas. It may be a hurricane. I am left wondering … how is it the lakes have done so well – so far – this year?
Whack-a-Mole
The fun of chasing sand bass, or the even more whacky striper on Texoma is pulling hard these days. Of course the fact that sand bass are the second tastiest fish in our freshwater also has something to do with the draw. I'll never understand the folks and more than 400 guides on Texoma, most of them, broadcasting photographs of tables full of client's striper ready to be cleaned. I guess my tastebuds are off. The whack game has been tough so far this summer, whether the shifting winds, lack of wind or heat is the pattern breaker, I do not know. The topwater blitzes have been mostly very young sand bass in quantities one-half to one-third the size of the acre-sized plots they normally plow up – on Ray Roberts. All I know is, if I put ice in the cooler? I won't even see a single blitz! That IS a pattern – for me anyway.
The boat will be ready for whatever comes this week though. The fly fishing rituals have gone through a very long interruption brought on by the heat, and any break sends me running for the water. And this is a break! So what will you be doing this week as the heat takes a break … before heading right back up into the 100's in about a week? The clock is ticking.
The Brazos River
I am amazed by how little talk there is about the Brazos below PK! The water has been running at a premium rate, and for awhile now. Anybody, besides me, thinking about this? (This is your not too subtle HINT!)
Always Check the Background
In photography, the most common mistake a new photographer makes, is not seeing what is in the background of the image they are about to capture. It used to be an expensive mistake, and now it is a mistake that is free to make – just delete it.
In the background here? I am still working hard on the 1970 Airstream Safari trailer – a ground-up rebuild, and documenting that "progress" on the Loco Airstreamer YouTube Channel. It's a lot less fun than this site's Texas Fly Caster YouTube Channel, and a lot thinner. But if you want to see, "what comes next," take a LONG ride with another cult phenomenon – the Airstream Nation.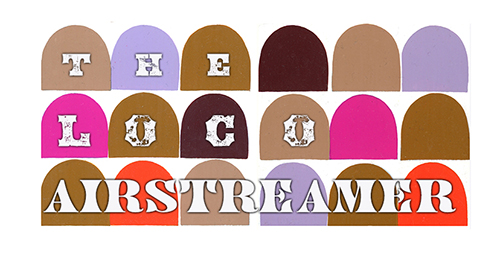 Thanks for reading, keep me in the loop – let me know where you are fly fishing RIGHT NOW!
Category: Adventure