As time goes by, it becomes easier to see and feel the compression of seasons, and remember "this time last year" more clearly than when we were younger.
For example this time of the year, Thanksgiving give or take, is when I don my Petzel Headlamp, discover the batteries are dead, replace the batteries, don the Petzel and lower the hallway stairs to the seventy-year-old attic framed overhead.
The wood of that old attic is so dried it is as hard as a rock. Even with the hurricane force winds last night here in Denton, Texas, it didn't creek or even flex. The two-by-fours really are that hard. The house around it is from another time, cotton covered wires, a giant swamp fan propped over in one corner, dark, and cross beams of the trusses set at just under four feet high so as to take you into orbit when you raise your head too high – seeing stars is common in the attic. Old alarm wires going nowhere and doing nothing anymore, an HVAC unit that survives on summer prayers only … this is just some of what you'll find in our attic.
What brings me here is a combination of things; a permanently thinned skin makes my cold tolerances much less than they once were, a SO that has a rising tolerance for cold over the years, and it is time, that time.
I am looking for a single plastic snap-lid box that holds all the "warm stuff," like 20-year-old flannel shirts, 35-year-old Patagonia blizzard-grade base layers and my latest long handles – the five-days-a-week wear – – Under Armor 4.0 base layer top and bottom. Thankfully, they don't hold stink for about that long – five days hard wearing, and hard living 24-hours non-stop.
Did I label that box? Of course not, so I go from box to box, snapping open the lid and being sure to let the rat pellets slide off and not into the box. That's another story for another time.
Box stack to box stack, weaving over the partially covered ceiling studs, bent over 90-degrees at the waist, and trying to keep from hitting my head on the cross beams. I learned a long time ago to wear a thick fleece hat in the attic so it would take the impact and spare the thin skin on the thin haired top of my head. There has been blood.
Finally, the box is found, and the joy is as if I have found the Ark of the Covenant. Now comes the job of getting it out of the attic. It usually goes well, a bob-and-weave affair back to the stairs that covers, at worst, about fifteen feet.
The long handle box comes down, and maybe after Thanksgiving sometime the summer box goes back up. I have noticed, as time has compressed, that I need my long handles less and less each year. I fully anticipated not even needing the long handle box this year at all, but it is time. Now just when the box goes back up in the attic? 
That depends on so much this next year, so many of those pesky variables I don't even want to think about it now. That's another story for another time. Maybe now is the time for some fresh new socks? My old woollies seem to have finally shrunk up too short, and as far as I am concerned – if you feet get cold? then you're cold.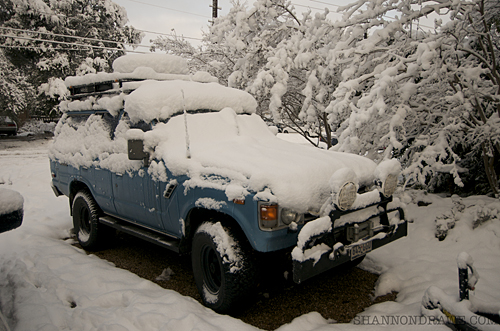 As well as adding some warm (and stupidly expensive) socks to the arsenal this season, I am watching the ads closely. Maybe one of those "unitard-like" pairs of long handles are on tap this year? Or how about another set of long handles that plug in and burn all the dog hair off the outside? That would be a good dog, if not stinky, dog trick!
All I know is: Just about the time we / I say, "It doesn't get cold here anymore," here comes the blizzard of the decade, and I will have to climb back up in the attic to find my box of "fat clothes" so I can double-up my layers and walk the abandoned streets of Denton. It used to get cold here, I do remember that.
Category: Body-Mind-Soul, Life Observed