Pioneering Texas Artist Larry Haines knows a lot more than meets the eye
Larry Haines is a pioneer in the Texas Gulf Coast style of painting fish and marine life that spawned many imitators. Larry, to the best of my research, in his style – is the original. There's hardly a downside to the imitators, and true artists are rare to raise a red flag when they see one … and that's the comfort that comes with the confidence of your hand, your eye and decades of recognition, and … sales, lots and lots of sales. For those who model their art from Larry's work? I guess he would probably say, "more power to you!" I would say stand on his shoulders and enjoy the view.
I first met Larry Haines when I was fresh to fly fishing, and making wild trips from North Texas down to my home waters of the Lower Laguna Madre and South Padre Island, Texas. His shop was on the "main drag" right before the new Queen Isabella Causeway, and by the time I first met, and interviewed Larry, his framing and art was already on the way to being more dominant than his fly fishing gear he sold at that same location. And his art was immediately attractive to my eyes, as were his stories about tarpon showing up on South Padre Island.
This interview is one I am so excited to bring my subscribers because there are some "legends" that are still living, and in my opinion Larry Haines is one of them. I only hope we find the time to do the second part of my plan, and that is to hear Larry tell stories about how the Texas tarpon first got his attention, and then his obsession as a fly fisher, a fly fisher in a place that went decades with no thought of tarpon … until they began showing up again.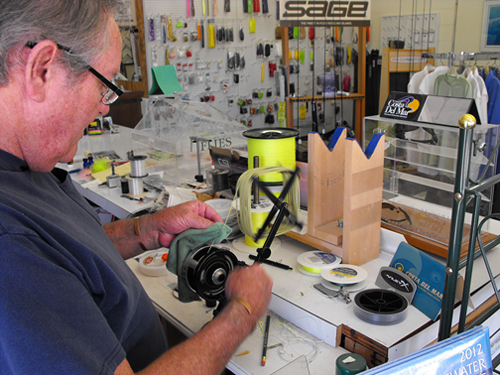 Artist and fly fisher Larry Haines is from Harlingen, Texas, was drafted in the 1960's and went to Vietnam. Back home, and on the GI Bill for some financial help, Larry went to the University of Houston studying art. 
But please, take the time to watch the video, and let a Texas Original, Larry Haines, tell you his story. It is a fantastic true story of hard work, passion and serendipity. You can purchase Larry's work online at his website – Sport Fishing Wildlife by Larry Haines and Larry takes commissioned work as well.
BELOW ARE TWO STORIES by Contributor and Friend Immanuel Salas who was as big a road warrior as I was way back in 2012! And check out the punchline in the last paragraph of my story – the third one in line.
Category: Body-Mind-Soul, Fly Art, Wild Art Wednesday