texas fly fishing water conservation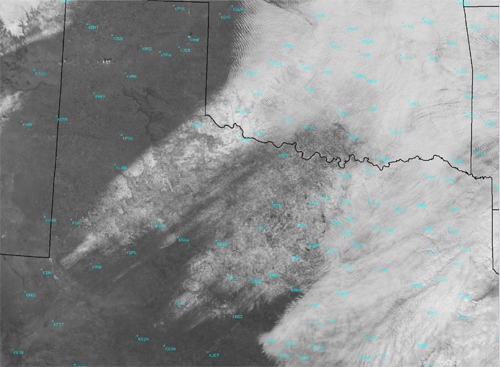 This is a satellite image of ice / snow on the ground.
Things are getting better in general around North Texas – thanks everyone for asking.
In what could only be classified as a technological success story, I tweeted on my business account, @dentonphotos, out to @cityofdenton about the fact we live on the top of a hill and our street is covered with ice. That's all I did, and within an hour sanding trucks laid down the first layer of sand since this thing started five days ago. That "@" is a pretty powerful way to get attention. Try it sometime.
I always wonder what an inch of ice, or an inch of snow means in terms of real precipitation, and so for this Water Wednesday, I decided to do a little research – because, really, that's all there is to do now.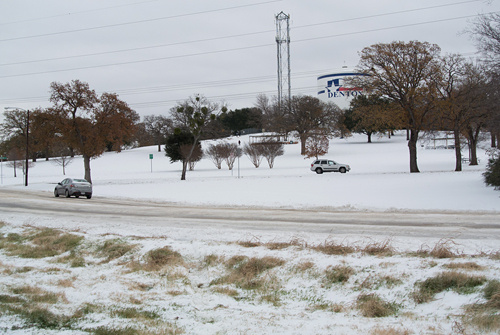 The ice question isn't readily answered, but generally it takes ten inches of snow to equal one inch of rain. Now, what we have here, or had here, was about four inches of ice. Let's round it off to five, and seeing as it's solid, we will call it an inch of rain.
The residual effects of an event like this are many and varied. Seeds that haven't germinated over the warm winter past, could potentially germinate. The extraordinarily slow thaw does bode well for the vast majority of the precipitation soaking in right where it sits. Translation; no runoff, and no improvement in lake levels anywhere. It will be interesting to see what grows, where water was, after this weather. At least the Texas Gulf Coast was spared this time. A little further east and south would have been an unmitigated disaster.
We will also have more typical bug expectations in many ways. Gone are the fleas in the yard that were almost impossible to kill. Gone are the mosquitoes, and larvae. There should finally be a downturn in West Nile Virus in North Texas.
If you fed wild birds in the past, they're hungry now, and it's a great chance to bring birds you may never have seen close in.
In terms of fishing, warmwater species will be more lethargic and as you fish, slow everything waaaaaaay down, and see if you can hook a comatose fish. If you can get to trout, they should be felling pretty good, and if we can get some more cloud cover in Southern Oklahoma spots, these fish should be extremely active in a few days.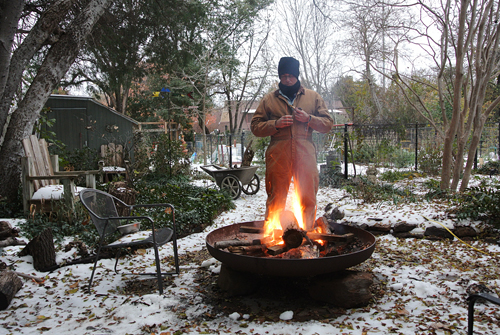 Smoke pipe. Sip Texas whiskey. Stay warm outside.
Category: Science and Environmental