Tiemco 600SP hooks stick hybrids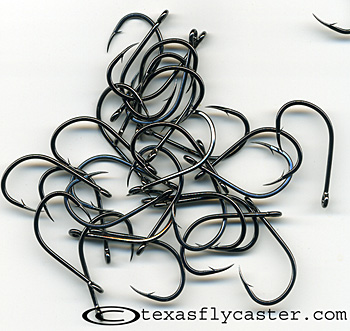 Stopped in at Tailwaters today to see if they had any hooks that may help in getting a little more grip on those Hybrids, and Collins turned me onto the 600 SP.
Tiemco – not cheap by any standard, but maybe they will help getting a real set with the "patriotic" Clousers we've been tying. The hooks look wicked, but then if the Hybrids do come back into the streams this year, maybe I can fight fire with fire – and win a few more this time, or at least have a fighting chance. In case I haven't said this ten times already – Hybrids are possessed.
Also picked up some pink bucktail to get ready for trip to Gulf Shores at the end of April. All things being equal, this will be a days long attack on that area of the Gulf Coast.
Finding unique hooks and pink bucktails can be a chore, so that just goes to show the tying public – skip the "big box" stores if you want to locate the hard to find components.
I also have a new CD in my hot little hands – a Mister Ryan Bingham – titled "Mescalito". It is on the Lost Highway label, which is also home to many of my other favorite artists. So, I'll give that a spin and finally get around to writing a few gear reviews in the next few days as well.
Category: Fly Tying, Paid Reading Content