OK, sometimes you have to just go with it. Who wants a haunted boat? I mean most of them have gremlins anyway, you know those little monsters that make things go horribly wrong just when they need to go right. I have had more than my share of boat breakdowns in my youth – including running a boat into a dock in a gale force wind, and paddling a (big) boat back in from fishing under the South Padre Island Causeway at night, flipping a scooter at the Arroyo … I could go on, but you be the judge of this one on craigslist. Let the buyer beware.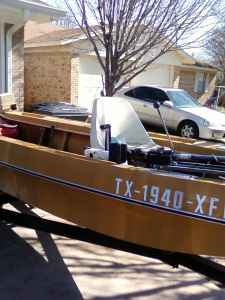 "Picked up a 1970 Sick steer fishing boat with a 1992 Johnson 25hp from a barn in Hillsboro, TX today after a strange phone call from my inlaws. The story is that the elderly man who owned the boat would sleepwalk and always end up in the barn sitting in the front seat so his wife was worried that he would fall one day so she locked the barn. Every Friday at around 5am her husband would sleepwalk out to the barn only to find a large padlock keeping him out.
On August 4th, 1996 the elderly man went fishing with his neighbor who trailered the boat to Lake Whitney at 5:30am. That afternoon their wives worried when they didn't arrive back in time for dinner….. ….. The next morning the boat was found on the west shore of the lake with only the AM radio still playing…… Both men were never again to be seen! Once the police finished the investigation of the boat it was returned to the same barn the man would wake up and sleepwalk to. It has not seen daylight since 1996. I wanted to keep it but this afternoon my wife sat in the front seat and yelled at me to stop tapping her with the fishing pole…….I was in the backyard!! This boat must go!
Trailer has fresh grease in bearings and 2 BRAND NEW rims and tires. Plates are current and good for the rest of the year. DRIVE IT ANYWHERE.
Motor was bought only 1 month prior to the owners disapearance….have dated receipt of 7/12/1996 for 1396.00. MAYBE 5 hours on this motor!
Last week the waterpump impellar was replaced, fuel pump and carb rebuilt with kits, lower unit re-sealed and filled with fresh gear-oil and a full wash and buff!
Price is $1000.00 Title in hand for boat, motor and trailer registration!
For everything you find wrong and I can't fix in 10 minutes or less……..I will take 100.00 off!!!!
Comes with wistle, and throw cushion brand new marine battery, fuel tank and lines and oar to make it lake ready. .
214-460-0986
* Location: Frisco, TX"
Category: Culture on the Skids