Friday Fly Fishing Rundown
This is a weekend to get out of the house, put on the snow chains and hit the roads of DFW. Why? That's because there are two events this weekend that may just be worth a visit!
GRAPEVINE FLY-FISHING
A brand spanking new fly shop celebrates its grand opening Saturday, February 13, in Downtown Grapevine, Texas.
The shop's owner Mike Tulowitzki, is opening tomorrow, basically ready or not. I interviewed Tulowitzki recently for a story to appear soon in Lone Star Outdoor News, and he emphasized personal service, brands that are lesser known and brands he likes, but that are rarely found in brick-and-mortar fly shops in the Dallas Fort Worth area. His emphasis is on fly tying materials – on easy-to-find online materials, but he wants tiers to be able to be "hands-on" just as most of us fly tiers do.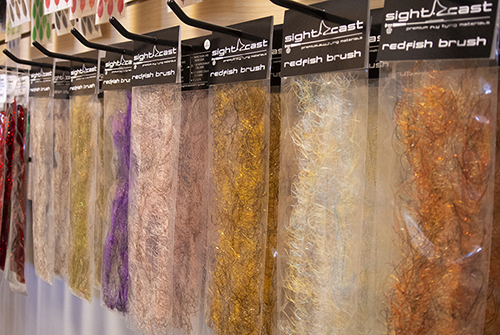 "The direction I hope to take the shop in is introducing new people to the sport. It always has bothered me when I mentioned that I fly fish that there were always two responses. One; Oh, that is supposed to be so difficult I could never do it. And, two; I would love to do that but I hear it is so expensive. I really want to be the shop known for our hospitality and for a customer to always feel comfortable whether it's the first time they ever stepped into a fly fishing shop, or they are long-time fishermen. … I won't have all my inventory in place when we do our Grand Opening but will be constantly adding to it. I will also be open to ordering or stocking things that our customers request." 

Michael Tulowitzki interview (02/20)
They have a local brewery on tap to provide some refreshments, and I would bet there might be some local wine for the attendees as well. I visited the store last week to do my interview, and just check out the new shop, since new fly shops opening anywhere is a rare thing.
I have to admit the tying materials are some that I have bought online (Sight Cast) and love, and there are brands like Semperfli that I have never seen in person, and have wanted to get hands-on. I even managed to buy a new UV flashlight – his first sale – before getting out the door. He's off to a start, and the brands he has, in addition to the brands yet to come, should be very interesting to those of us who have wondered about brands with smaller names and advertising budgets than those big beast brands. I'd say it is unlikely that he will be able to have some brands – due to the way the big brands carve up the territories.
IF YOU are wondering about specifics, follow Grapevine Fly-Fishing on instagram @grapevineflyfishing for up-to-date images and more.
TAILWATERS SALE ON TOP OF A SALE
In the in-box this morning is a e-mail from the good people at Tailwaters in Dallas, Texas. Apparently, they are tacking some sales on top of sale items, and a coupon for 10% off any one item. I did not read the fine print, and no, there is no charge for admission (for the jokers in the crowd)! 
If you want to get out and go THEN get in and warm up, this weekend put both of these on your gps and check them out.
Tailwaters is located in Dallas, Texas, at 1933 E. Levee Street, and is just down from two of my other favorite places – Flying Fish Restaurant and Competitive Cameras. That last one, Competitive Cameras, for the record, has taken exponentially more of my money in the last thirty-one years than the former businesses have … and they'll never catch up with Competitive Cameras! Check out their mirrorless cameras if you want your mind completely blown!
Grapevine Fly-Fishing is located on Main Street in the Old Downtown area of Grapevine. That store is in a strip center, at 122 North Main Street. Keep your eyes open, and check the Grapevine Fly-Fishing Google Maps listing I put online for you – to make it easier to find.
AS always, BE SURE TO TELL THEM I sent you and you'll unlock extra special savings (or not).