What goes around comes around, and seems to be coming around all the time these days. This time it's Fort Worth's Backwoods turn to host the tour, and the Fly Fishing Film Tour will be Sunday May 22, 2011, at the Modern Art Museum.
As long as you are in Fort Worth's Museum District, be sure to check out the show "The Hudson River School Paintings" at the Amon Carter Museum. I saw it last week, and it was simply incredible. It includes, Leading figures of the Hudson River School, including Thomas Cole, Frederic Edwin Church, Jasper Francis Cropsey, Asher B. Durand, George Inness and John Frederick Kensett, and others." As long as you are on that floor of the museum, be sure to take time to check out the photography as well. Part of the photography collection showing includes, Denton's own Carlotta Corpron (my wife used to throw her newspaper).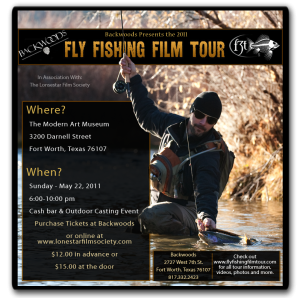 Click on the poster to enlarge and take off your magnifiers!
FROM Michael Preable –
"Ignite your passion for adventure, action, and travel! The 2011 Fly
Fishing Film Tour will exhilarate you with amazing big-screen fish
stories when it comes to the Modern Art Museum of Fort Worth at 7:30
pm on Sunday, May 22nd.
In just its fourth year, The Fly Fishing Film Tour has become the
fishing entertainment event of the year. The Film Tour will be seen in
well over 80 cities in 2011 and will showcase some of the best
independent outdoor filmmakers. The goal of the Fly Fishing Film Tour
is to energize the industry and inspire filmmakers to create new
cutting edge films to both entertain and educate outdoor enthusiasts.
If you are a fishing enthusiast or you are just interested in great
outdoor entertainment and want to catch the tour, this is your chance.
The program hosts a series of short films filled with humor and
adventure from the best outdoor filmmakers in America. Check out
www.flyfishingfilmtour.com/ for the trailer.
This stop on the world tour is hosted by your friends at Backwoods.
Visit Backwoods at 2727
West 7th Street, Fort Worth, TX 76107. For more details contact
Backwoods at 817-332-2423.
Backwoods is an Austin-based, national outdoor retail company with a
long history of providing its customers top quality technical gear and
a broad collection of outdoor clothing and footwear. Founded in 1973
in Wichita, KS, Backwoods currently operates 9 retail locations in
Austin, Fort Worth, Norman, Oklahoma City, Omaha, Overland Park, St.
Louis, Tulsa and Wichita. 24/7 shopping is also available online at
www.backwoods.com. In addition to the BACKWOODS retail locations,
Backwoods Adventures, the company's adventure travel division, offers
a unique and first rate adventure travel experience for all levels of
outdoor enthusiast. Whether you climb tall mountains or have never set
foot on a trail, travel the world or travel downtown, Backwoods is the
exclusive portal to whatever type of adventure you seek.
For more information, visit www.backwoods.com.
Category: Events, Life Observed, Photography