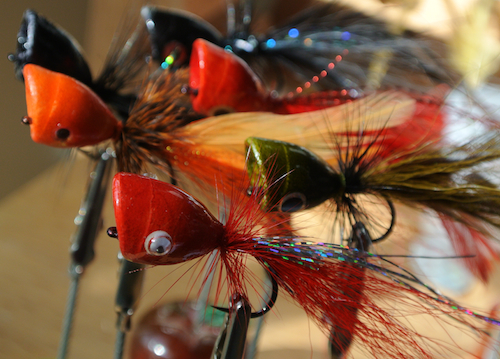 New crop of poppers.
They may not be the prettiest poppers in the world, but I am turning them out at a record rate due to the use of Clear Cure Goo's newest cure – HYDRO. No more tackiness, and no more top-coating. This stuff is the real deal. I use it to finish off Clouser heads, and now since I can see the spring light at the end of the tunnel, I am turning HYDRO on to poppers as well. The results have been fantastic – super clear, dry in 60 seconds (and I let them sun for a day or two in the window), and after that you are good to go.
Poppers are a lot of work compared to many flies, but they can also be an opportunity to try things you may think of as "secret weapons," like the doll eyes I put on a couple of flies just to see what happens. One thing I am pretty consistently different about is placing the eyes a little lower on the body than most tiers. Ultimately, I think they are better off low, or too low, than too high, but ultimately, if you can get them to sit on the surface … I'm guessing that would be a killer.
It seals, creates a bond between eyes of all kinds and your popper surface, and if you handle it just right (use a rotary vise to coat, turn and cure, you can end up with some natural looking "googgly-eyed" poppers that look like the eyes actually belong there.
I am using the Japanese Copic Air Brush System
, and it has great control, zero cleanup and runs off canned air. The pens are easy to find, but price can range widely. The local Voertman's Book Store in Denton, sells them cheaper than Hobby Lobby.
Yeah, they may not be pretty, but then how often does a largemouth bass back off, turn and run?
Category: Fly Tying