kiss the water fly fishing movie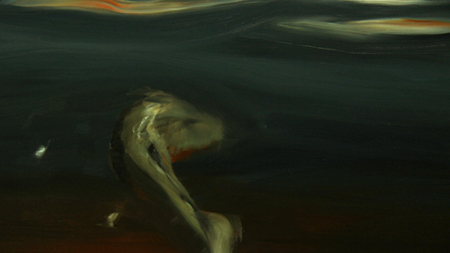 Still from "Kiss The Water" trailer page.
I made it down to see the movie "Kiss The Water" at a fantastic little theater called 14 Pews in far north Houston Heights on Wednesday night. (The Heights certainly have changed since I used to visit my Great Grandmother on Columbia Street in the 1960's)
This is equal parts art and fly fishing (fly tying actually), and a movie that has to be seen to be appreciated. It has fantastic animation woven throughout it, animation unlike any you can imagine; paintings that jump to life and take you under to another world, the world of salmon fishing in Scotland, the fly tying life of Megan Boyd.
Miss Boyd, according to those interviewed, apparently had a focused life that included tying flies, dancing and driving fast (tying flies for the commoner as well as Prince Charles and awarded the British Empire Medal). The movie was inspired by her obituary that ran in the New York Times December 11, 2001, and was read by Eric Steel. Steel didn't forget it, and from that comes:
"Megan Boyd's entire world – her life, livelihood, love, and loneliness were wrapped up in her flies, in bits of feather and tinsel wrapped around a tiny metal hook. In every strand, in every fiber, there is a story, a fairy tale, a truth – waiting to be unraveled."
And that really fits. The animated, paintings come to life breaks in the film, are fanciful flights of fairy tale that are fit for a child's imagination (thus my imagination). The contrast between the staid, tweed interviews, and these fanciful flights is precisely what's called for. This is a movie for all age groups. If you're in Houston, go see it. If the opportunity passes you by, purchase the DVD – Buy Kiss The Water (Coming Soon).
Category: Fly Art, Movies DVD Video