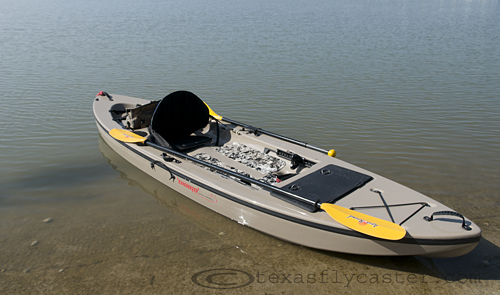 The Adios by Diablo Paddlesports in Austin, Texas.
Unless you've been hiding under a rock, you probably have seen, read or heard about the surge in kayaking as it applies to fishing and fly fishing. When talking to sales people who deal in kayaks, they say there are a number of reasons driving the industry like no time in recent memory.
Along with gas prices, there are plenty of people who use a kayak for fishing because of the simplicity, low cost and maintenance (compared to a bass boat), the physical benefits and the ability to access places other boats just cannot reach.
If you fish, you know the power of and need for good eyesight when it comes to stalking, or finding fish in many different situations with many different species. If you have tried to sight fish while wading, and then fished the same area in a boat, you know what that extra couple of feet (above waterline) can do for your vision. And if you fly fish, you know the added complications that come from casting while either wading or sitting on a kayak. Those who fly fish in kayaks have written reams on how to compensate for the casting problems (they say are) caused by sitting in kayaks. The fact is, if you have a well defined and disciplined cast, you can deal with this problem without having to resort to longer faster rods. However, this is a topic for another day.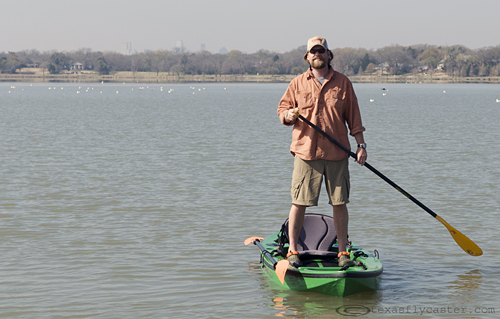 Thomas Flemons of Diablo Paddlesports on the water at White Rock Lake in Dallas, Texas.
With the surge in kayaking, there is also another niche' that has suddenly made its way into the sport under the classification of paddle boards. These are stand-up watercraft that are intended to be paddled while in a standing position – like a long surfboard, or what we called a longboard. It's almost the exact opposite of what many people see in their mind's eye when someone says kayak. There's no self rescue maneuver in fishing kayaks, and short sit-inside boats are a distant afterthought. We still use the two categories – sit-inside and sit-on-top, and now add to that stand-up. Obviously, companies like Native have been busy warping the lines between kayaks and canoes for some time and quite successfully, but for now they are still sit-inside.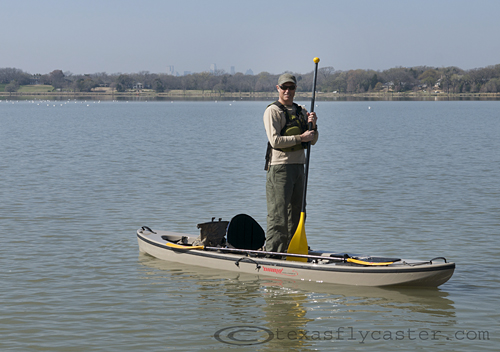 Test riding the Diablo 12.5 Adios.
Enter the new kid on the block. Diablo Paddlesports out of Austin, Texas, has created a kayak that just may change the equation when it comes to what we think of when someone says "kayak". Diablo has combined the functionality of a sit-on-top kayak with the stability of a board, to create a water craft that moves fast during seated paddling, and also paddles nicely during stand up paddling. I tried the boat yesterday, and I am here to tell you this boat is extremely stable and the 10.5 Chupacabra turns on a dime. The 12.5 Adios doesn't turn as quickly, but it also has a bit more lateral stability when I was ready to stand up. Most sit-on-top boats have a cork characteristic where you can fall off, but you're not going to flip it over. The Diablo is no different. The 12.5 is 36-inches wide while the 10.5 is a whopping 37-inches wide!

Not only have they rewritten the rules when it coms to wide boats, they have done it while keeping weight down and speed up. The ABS material used to create a hard slick surface keep this boat in shallow draft and moving fast. I consider myself to have a bit better balance than the average person due to years of surfing, but I can't imagine anyone having a lot of difficulty getting into a standing position on the water in this boat. And if you want to sleep in your boat, avoiding landowner gunfire, while doing the Devil's River, look no further than the 12.5 Adios. If you are looking for smaller water agility, the 10.5 Chupacabra.


Imagine trying to do this on any other kayak.
According to Diablo's Thomas Flemons the Adios is available for purchase now, and if you are interested learning more about Diablo, let me know and I can mail you some information. I can also set up a group demo ride the next time Thomas in in the Dallas Fort Worth area. If you are in Austin, contact Diablo at 512.282.2628, or e mail him at [email protected]. Thomas also said they have a tandem in the works and hope to have it off the drawing board and into a prototype by this summer. And according to Thomas, the Chupacabra is available in the very popular John Deere green.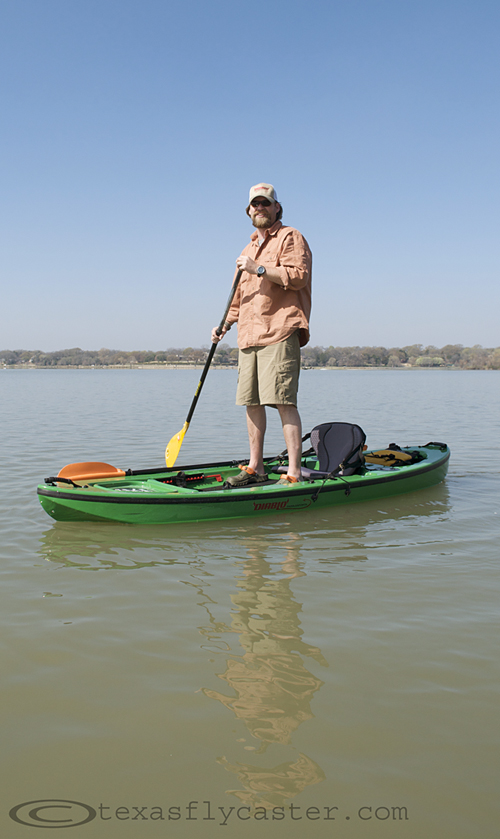 Diablo Chupacabra in JD green.
This boat is exciting because it has such great potential for fly fishing on the flats – freshwater flats for carp and bass, as well as saltwater flats for redfish and speckled trout. It could also go a long way toward changing what we have generally accepted as limitations when it comes to fly fishing from a kayak.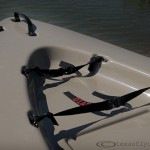 Needless to say, the kayak business is very competitive, and as previously documented, competition also includes imitation, so don't be surprised to see some of the major manufacturers try and steal a bit of Diablo's fire in the future. That would be difficult though – Diablo is certainly off to a great start.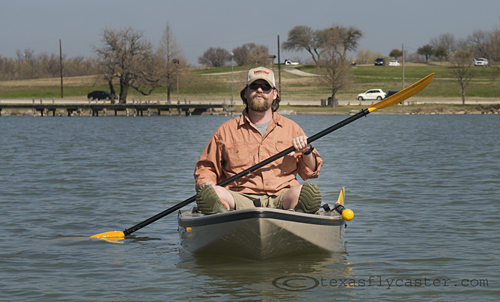 View of the bow of Diablo's Adios.