Hurricane Harvey Aftermath Rockport Port Aransas Texas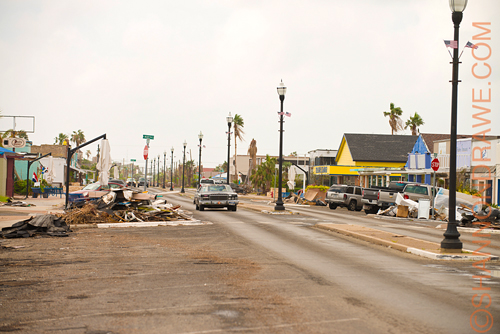 It certainly was an enlightening week as I found myself trailing Clyde, the car of fame, from the Drake magazine column — all the way down in Port Aransas and Rockport, Texas. I was assigned with writing this installment of Clyde's journey, and my idea of making that journey to the epicenter took hold with drivers from Houston's Bayou City Angler and the editor of Drake magazine.
This is one of those stories that lead me to an entire alternate dimension of reality, and I am not talking about substances. As an "old school" journalist, I / we were taught to FOLLOW UP on stories. It is a "policy" that has long been forgotten, as today's youth lack attention spans, want greatest hits, and budgets of publications dwindle to a standard of one-time-in-and-out coverage. Then, they're on to the next "big story," and the simpler it is the better it is for ratings.
This story is so deep and wide … what happened to Rockport / Aransas Pass / Port Aransas; it's simply impossible for me to file it away neatly, and move on to the next fly fishing story, location, event, hotspot, state, region, lake or whatever it may have been. All plans are changed now. We won't be leaving the Hurricane Harvey for the archives if I have any control over my professional destiny (totally questionable at this point).
Right now though? I have to balance the Drake magazine story with telling a story on what I saw  – here on the pages of Texas Fly Caster. Not a problem.
DESTRUCTION IS COMPLETE
One of the old rules of journalism is: "Destruction is complete." Meaning: If one of the talking heads you see on TV or read in your newspaper says, "… completely destroyed," they have violated a cardinal rule. Destroyed, or destruction is complete. So, to say "completely destroyed" is redundant.
Many areas of Rockport and Port Aransas, Texas, are destroyed. The piles of gathered debris are two and three stories high, up to two hundred yards wide and by the time I get back there perhaps a quarter mile long — and that is just one location (in a highway median). Giant Mad Max-style dump trucks are running constantly, with giant trailers behind, loaded to the hilt and probably paid by the load. There are fleets of electric company trucks, fleets of DPS, fleets of TXDOT dumptrucks, and a bunch of hooligans who have descended on the area doing petty crime, thievery and up to no good. Hence the DPS constantly run the streets, beach camping area (abandoned but still functioning) and will look at you – no matter how white-bread you think you are – COUNT ON THAT.
DECISION TIME
The first thing you'll want to decide? Do you want to help, or can you help make a difference in a war zone? That's a hard call. The infrastructure that set Rockport and Port Aransas apart from a hardcore fishing village like Port O'Connor? It's gone. The people who supported that infrastructure; restaurant workers, hotel, fast food, quick stops, condos and all the salt of the earth? Blown away, and gone too. For some of us, those things make little difference. For many of us with families to entertain while we fly fish, with time necessarily dedicated to others during our precious vacation time – there's now nothing there to offer them.
SO now I am mulling over how I can do the most good for those within my orbit. The idea of a book, a thorough document, is burning my synapses, but how to fund it? And who of you really cares beyond the fly at the end of your leader? Maybe it's time to find out.
First, let me tell you honestly the fly fishing was off while I was down there. There was a whole lot of water – an extra foot – in the bay, and that shook things up considerably. But things will normalize, the pressure is WAY OFF and getting a guide is easy.
That extra water made the finding of a redfish (requested for the Drake story) an epic ordeal, but we got it done.
AS A FIRST means of supporting our fly community down there, I would book a trip. Rates for the older generation of guides have gone through the roof, and the younger generation is quite capable if less experienced. It seems like it must be pretty typical to split a guide at these rates, and I think the most expensive guides are expecting two to a trip. I recommend both the new and older generatioin, and will drop some links for the folks I have been out with at the end of this.
Unfortunately, because I have to run off to other work, I have to cut this short. There is also no time for a "Texas Fly Fishing Report" video this week. Although I will have something out by Tuesday that will probably be preoccupied with the story I am telling you here. If you have any ideas for funding an epic story, feel free to speak up. And if your fly fishing organization (CLUB) needs a cause, feel free to contact me.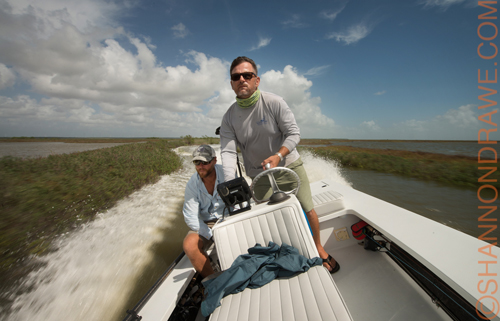 Chuck Naiser Fly Fishing Waterfowl Hunts
This story is done in a rush, and I will add photography to it when I get the chance! PLEASE at least visit the website links above (Be Brave Facebookers!), and check those folks out. Sorry to cut this short!
Category: Causes