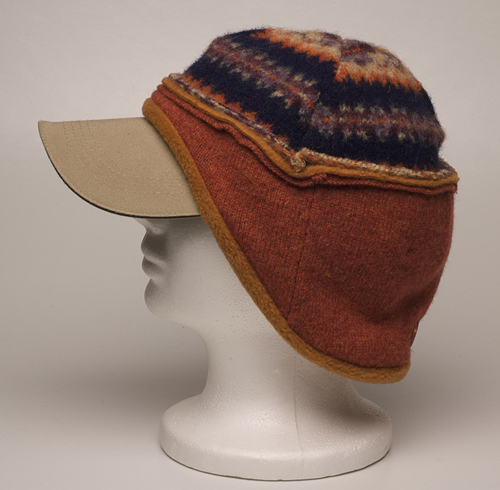 Texas Longhorn fans should dig this orange color.
The "Angler" hat is designed and made by Cimarrona, based on a concept I had for unique head warming winter wear that would go over a typical baseball cap. It curves down to cover you neck where so much heat can be lost, and if you consider the inner layer of your baseball cap, covered with wool … TOAST. The longer you wear an "Angler" the more it conforms to your hat and head, so that by the end of this winter, it's a perfect fit.
They are made from recycled wool and modern fleece, and there are no two alike. Each one will never be repeated because of the limited supply of organic wool, and the fact that other pieces of the same sweaters go into different hat designs.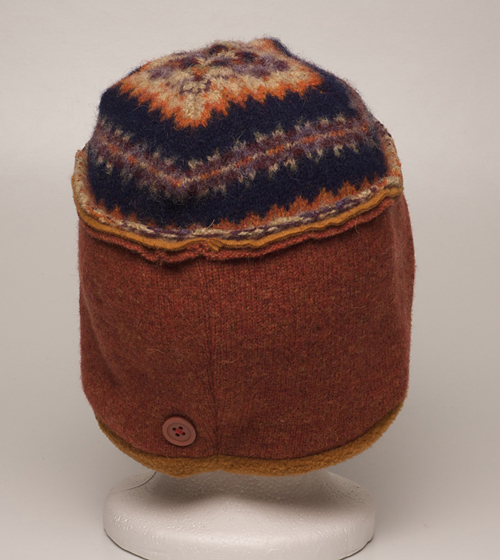 You may have seen one last season worn by the world famous Fly Fish Chick at a winter football game, or in the wet cold of winter by local fly fishing guide Joel Hays. If you see one you like, don't hesitate, because there is … only one. More unique hats and "Anglers" are available through Cimarrona at www.cimarrona.com and the Cimarrona Etsy store.
Category: Store Merchandise